For most of us, the nine days of Navratri are the time for observing certain rules of eating, pertaining to the nature of food items. Some people tend to make a mockery of the term fasting by binging on starchy foods which hardly do any benefit to our health.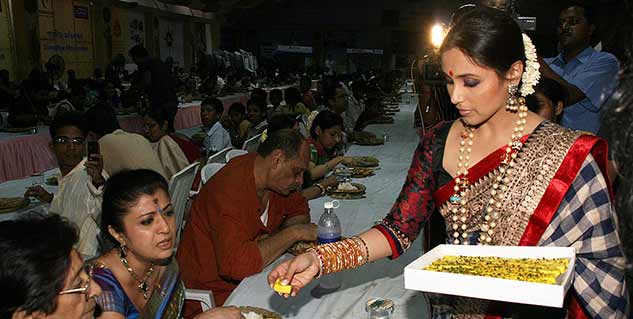 Let us take a look at the food types that people avoid during Navratri which in turn, makes them healthier. They shun all types of meats, alcohol, grains such as wheat, regular salt and spices. This is an attempt to eat healthy because such food items put much more load on our digestive system as compared to other foods.
[Read: Should I undertake a Navratri fast or vrat]
Navrati Foods are Healthy in the Ways:



At the same time, as your body needs the same effort in removing toxins caused by alcohol as it does for poison, not consuming it for 9 days would surely benefit your health.
Grains such as wheat contain a substance called gluten. Some studies have shown conclusively that foods based on gluten can bring the immunity level down to different extents in all individuals. So, shunning it for 9 days during the change of season helps to bring good health.
How Navratri Foods Turn Unhealthy:
So far so good, but the trouble starts when people start binging on oily and starchy foods or simply tend to overeat. They would bend the rules to suit their appetite by consuming a lot of sugary, fried foods, and at times even highly salted foods. All this is done in the name of fasting for Navratri.

Some of the high calorie foods that people tend to eat during Navratri are fried potatoes, paneer, sabudana vadas prepared in ghee or oil, full cream milk, full cream yoghurt, puris or paranthas made from singhada (water chestnut) flour, makhana kheer with condensed milk, cashews and other nuts, and similar foods that are increase the load on your body's metabolism.

It is all right if these foods are taken in moderation and not binge eaten. In order to keep your fast going for 9 days, it would indeed be important that you take such foods once or twice a day. The bottom line is that you need to consume lesser calories and foods that can detox your body during the Navratri fasts.


Image Courtesy: http://foodnightlifeblog.buzzintown.com/
Read more articles on Festival Fever