Detox tips for weight loss are perhaps the ideal ways for weight loss in the market for they not only detox the body but also improve its health and induce weight loss. According to the Centres of Disease Control and Prevention, an average human being has about 116 synthetic compounds in his/her body. All the daily activities that we indulge in everyday expose us to a certain amount of toxin. These toxins may be absorbed from food additives, preservatives, smog, dry cleaners, heavy metals, pollution, non-organic foods, chemicals, pesticides etc. The absorbed toxins get stored in the fat cells, which the liver processes and converts into water-soluble molecules that are released through bowel movements. Here are some detox and weight loss tips for a healthy living.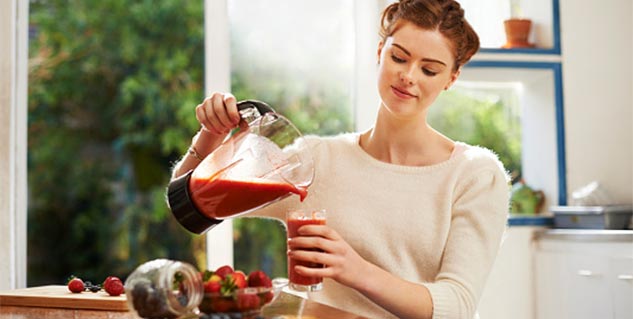 Our bodies are threatened with toxic overload. Rising cancer rates, together with the dishearting discovery that even breast milk is laced with dioxin and other chemical contaminants are only two of hundreds of starting reminders that environment pollution is taking its toll. Now more than ever, we need to support our body's natural capacity for self- healing. Mudra is a good place to start.
Consume Clean and Filtered Water
One of the foremost weight loss tips using a detox diet is consuming an appropriate amount of filtered water. The body is made up of about 85% of water and it acts as a catalyst to most important functions within the body. Water is an important element in clearing toxins from the body. To get yourself to routine water consumption and better results, add a few drops of fresh lime juice into a bottle of water.
Stay Away from any Diet Plan
Exposing your body to a sudden diet plan is disastrous for the body. Besides, most diets impact the metabolism greatly and may even lead to hormonal disruption. Moreover, there is a chance that you will not know the nutritional value of the calories you are consuming. Therefore, you need to consume specific micro and macro nutrients to keep the metabolism working fine. You can gradually reduce the consumption of unhealthy fats or substitute them with healthy fats.
Go Easy on Alcohol
Consumption of alcohol in great quantities disrupts the blood sugar levels in the blood, is estrogenic, causes dehydration, is toxic to the liver, adds abdominal fat and stimulates appetite.
Drink White and Organic Green Tea
White and organic green teas are a healthy source of the drink. They help in the detoxifying process.
Avoid Artificial Sweeteners
Avoid the consumption of artificial sweeteners such as Equal, NutraSweet, Aspartame and Splenda.
Always Opt for Organic over Commercial
Do not go by the commercials of food products. Check the label of the food item for "organic" ingredients. Avoid non-organic foods such as farmed salmon and products made of other contaminated fish. Consume grass-fed bison and beef, eggs and free-range poultry.
Detoxification Mudra
Place each thumb on the inner edge of the third joint of your ring finger (see pic). Do this with each hand. For 10 minutes three times a day.

At least once a year, we should all plan a detoxification treatment. It makes no difference whether this is done at a beautiful spa or at home. The important thing is to pamper yourself and allow yourself rest during this time, while still getting some exercise (walking, yoga, breathing exercises). A rice or potato treatment has a very efficient but gentle effect. For three to five days, eat easily digestible bread with herb tea nettle (urtica dioica L.) in the morning; for lunch and dinner, have a meal of rice or potatoes and steamed leaf vegetables. Drink tea or water between meals.
Do an enema every second day and occasionally support the detoxification process with a compress, a potato compress is quite easy to use and practically draws the toxins out of the body. It can be used to support general cleansing by placing it on the lever or any other body parts that hurt. Boil the potatoes in their skins and mash with a fork, wrap in a cotton towel, and place it on the body; wrap the warm towel around the body and the potatoes sack. Leave the compress on the respective spot for about 30 minutes.x
During the detoxification days, lie down and rest often. This is the time to use this Mudra for supporting the detoxification process. It is important to consider the things, in addition to waste materials and toxins, you are willing to let go off---bad memories, old grudges, bad habits, negative character traits, fear and etc. This will make room for something new. What should it be?
Image: Getty
Read more articles on Weight Loss.

For more such stories, Download Onlymyhealth App. .