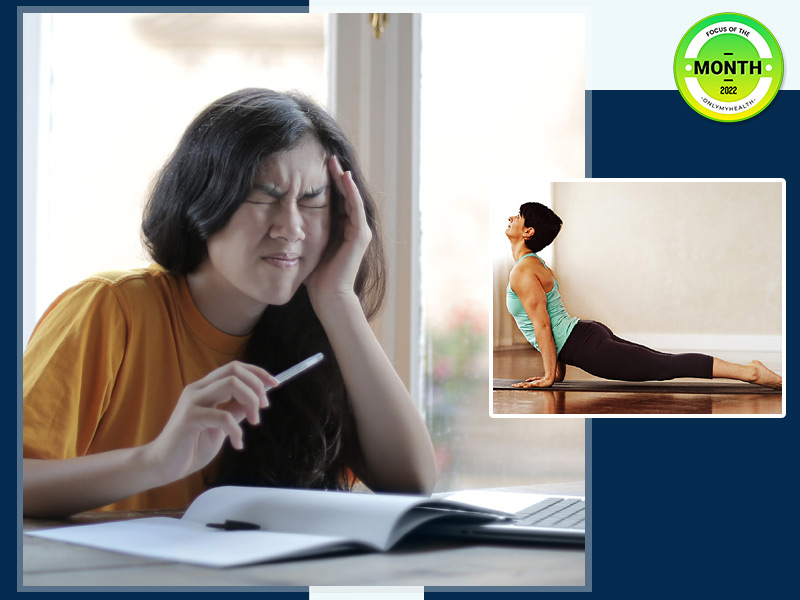 We are somehow aware of the fact that migraine can cause terrible headaches and that could be very irritating. People take regular tablets in order to control their migraine attack sometimes that puts a negative impact on their health. Migraine pain might also cause vomiting, headaches, nausea, sensitivity to light and their symptoms. We at OnlyMyHealth are focusing on creating awareness about different health topics and their treatment methods by our "Healthy Living" campaign. Yoga has been a long-lived natural therapy that could aid in lowering down and controlling the symptoms of different diseases in the body. It might be effective in treating migraine headaches as well. Today, we will try to find out whether or not it can be effective, if yes, then we will know about poses that could be of help.
Is Yoga Beneficial in Migraine Headaches?
Migraine is a common condition that affects a lot of people. Yoga helps to lower the blood pressure and slow heart rate that helps the person to recover from stressful events and migraine attacks. Headaches are the most irritable condition that affects people, it can also lead you to disability and other issues. Migraine headaches often begin around early adulthood and can last till lifetime. There are a few poses in yoga that can be useful in reducing the migraine pain and controlling attacks. Let us look at these yoga poses for migraine.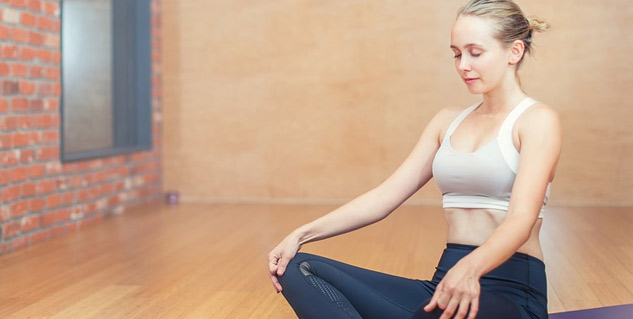 Poses to Treat Migraine Pain
Here are some poses that could be beneficial to affect migraine-
1. Sukshma Vyayama
This is a type of yogic exercise that is useful to loosen up the neck, face and head of the body. It relaxes your muscles in the following areas because of which the migraine pain is not affected at that limit. Here is how you can do this pose.
First move the middle and ring finger from the jawline to the chin and massage the cheeks. Mouth remains open in this time and then concentrate on knots.
Open your jaw and close it simultaneously around 8 to 10 times. Then open your mouth again and move the jaw sideways again 8 to 10 times.
Rotate your neck, breathe in and then move the head back. While you breathe out, touch the chin to the chest and repeat it for another 5-6 times.
Rotate your head clockwise, and then anti-clockwise. Breathe in as your head goes up. You can then breathe out as the head returns to the original position. Repeat this clockwise and anti-clockwise like above steps.
Also Read- How To Do Sirsasana? 10 Easy Steps To Ace Headstand Pose
2. Cycling yoga pose
This pose is useful to relief the body and muscles from getting stressed out. You might lower the risk of migraine attack and headaches by doing cycling pose in yoga at a regular basis. Here is ways to do this exercise-
Begin the pose by lying flat on your back, keep your legs straight and arms together. Your arms should be one sides with palms facing down. The head, neck and spine should be aligned.
Raise and straighten your right leg entirely. Lower your right leg forward and inhale while raising the leg.
Bend your knee again and in the forward position try to complete a cycling movement until the knee comes back at the initial position. Exhale while drawing the knee towards chest.
Kindly ensure that the heel of the right leg does not touch the floor while doing this cycling pose for migraine. Do this in complete repetition for around 10 times in the forward and then 10 times in reverse direction.

3. Hands Stretch Breathing
This is a very simple exercise that can be beneficial for migraine. It stretches your body muscles that can also aid in providing benefits to your headaches get under control. Let us know about steps to do this exercise-
First stand straight and keep your feet together. Hands should be relaxed at the side of the body.
Bring your hands in front of the chest and keep your fingers on each other and place them on palms on the chest.
Relax your shoulders
Stretch your arms straight out in the front and then keep arms at shoulder level to breathe in.
In the same time frame, twist the hands so that your palms towards chest. You can relax the shoulders and repeat it 5 times.
Also Read- World Liver Day 2022: Yoga Asanas To Cleanse Your Liver
Picture Credits- shutterstock.com