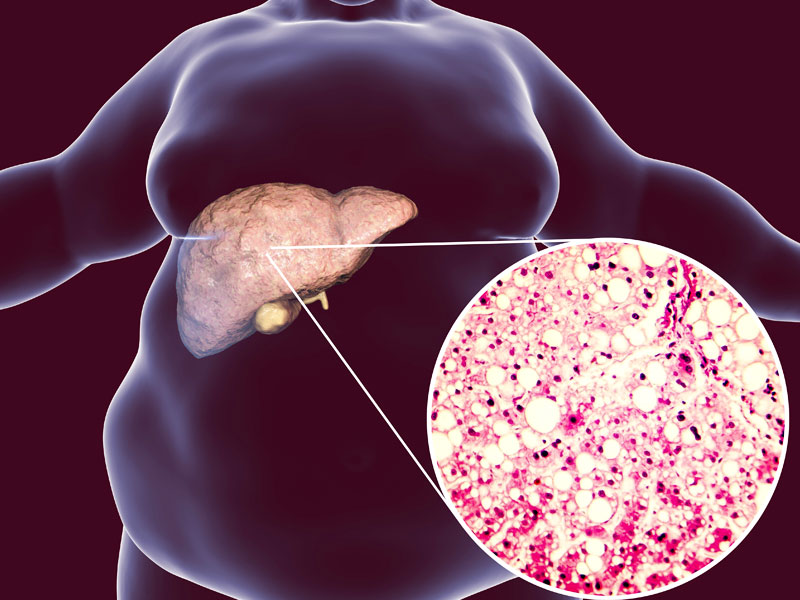 Nonalcoholic fatty liver diseases (NAFLD) encapsulate all chronic liver-related diseases affecting people who consume very little or no alcohol. As the name suggests, this syndrome is characterized by deposition of excessive fat that gets stored in the liver cell, which is not a consequence of alcohol consumption but other risk factors. This syndrome comes as a myth buster to the otherwise stated fact that the majority of chronic liver diseases are caused due to alcohol consumption. People suffering from nonalcoholic fatty liver diseases tend to develop steatohepatitis which is a severe form of fatty liver manifested by inflammation-causing cirrhosis of the liver (advanced scarring) or liver failure.
Dr Neerav Goyal, Senior Consultant, Liver Transplant, Indraprastha Apollo Hospitals, Delhi explains all about Nonalcoholic Fatty Liver Syndrome, its causes, symptoms and treatment options.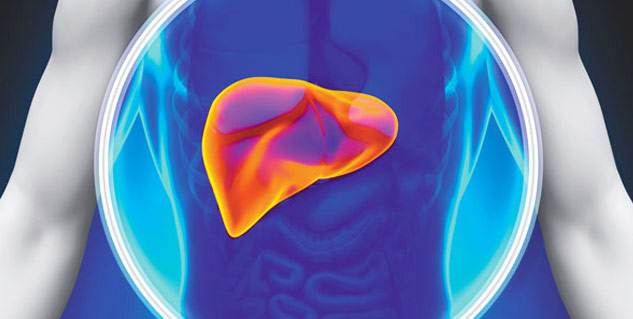 Also Read: World Liver Day 2021: Liver Disease On Rising, Know About The Alarming Factors To Manage The Condition Better
What causes Nonalcoholic fatty liver diseases (NAFLD)?
While the exact causes of non-alcoholic fatty liver disease (NAFLD) is not defined, genetic strain, underlying diseases like diabetes and hypertension, lifestyle choices and the insulin resistance of the body can be possible risk factors. When the body develops resistance to the insulin it means that the cells are not accepting or responding to the insulin like they should. Consequently, it leads to excessive fat deposition in the liver causing inflammation and liver scarring.
People with certain health problems are more likely to develop Nonalcoholic fatty liver diseases (NAFLD):
Obesity
Type 2 diabetes
High blood pressure
High cholesterol levels
What are the Symptoms of NAFLD?
Nonalcoholic fatty liver diseases (NAFLD) don't necessarily have very evident symptoms, but some of them are:
Weakness and fatigue experienced all time
Persistent pain and discomfort in the upper side of the belly
Continuous Nausea
Some sever symptoms include jaundice, bleeding, easy bruising, continuous fever, swollen legs and abdomen that also hurt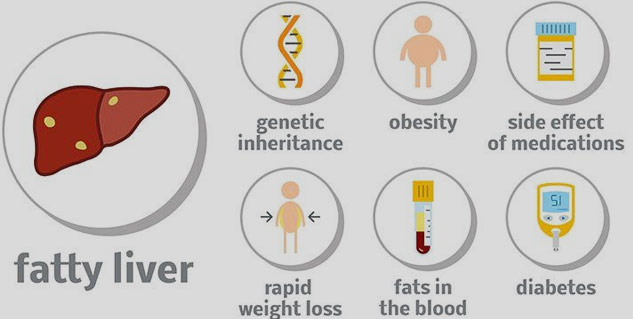 Treatment
Most patients don't have any visible symptoms hence it is not easy to diagnose this condition. Hence regular preventive health checks are very important to diagnose fatty liver diseases. These regular health checks helps determine:
Health history – Helps the doctor understand underlying diseases, ongoing medicines, eating habits
Physical examinations- The doctor checks any signs of possible liver problems liver weight, enlarged liver or jaundice
Blood tests- These tests help identify fluctuating levels of liver enzymes that help detect any problem with liver
Imaging tests- Tests like CT scans, MRI help show if there is any fat deposition in the liver, but this does not help in identify whether it is nonalcoholic fatty liver diseases (NAFLD) or steatohepatitis.
Apart from clinical support and medication we usually suggest lifestyle changes that can help in the process of treatment of a person suffering from any Nonalcoholic fatty liver diseases (NAFLD), which include:
Watching you weight- It is essential to maintain body weight in association to the BMI
Adding fibres, whole grains to the diet and cutting on all kinds of trans fat, saturated sugar and junk food
Indulging some form of physical exercise daily for atleast 30 minutes
Keeping in check sugar, bp and cholesterol levels- Plant based diet, regular exercise, medications prescribed the doctor will help aid this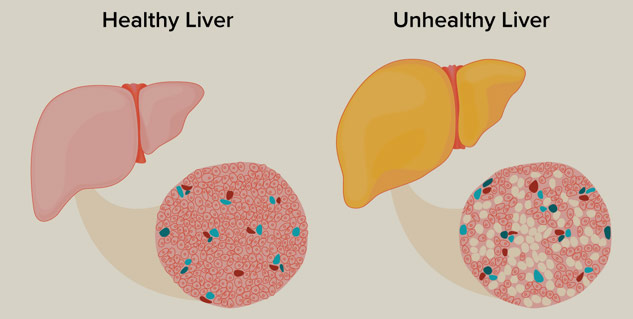 Also Read: What is Apple Cider Detox? Learn Step By Step Method to Cleanse Your Liver
Some complications of NAFLD
While most patients with Nonalcoholic fatty liver diseases (NAFLD) do not develop any sever complications, but a few with uncontrolled underlying diseases can develop the following complications:
Liver fibrosis and cirrhosis (scarring of the tissue) - The formation of abnormally large scars in the liver, happens when the liver tries to repair/ replace damaged cells. Appetite loss, jaundice, weakness, unexplained weight loss and nausea are some of the key symptoms.
Accumulation of fluid in the abdomen and limbs- This swelling usually develops over weeks and is manifested with discomfort, nausea, breathlessness, the feeling of being full all the time
Jaundice- The yellowing of the skin and eyes, jaundice itself is not a disease but can be a symptom of many underlying diseases. Persistent jaundice can disrupt the normal functioning of the red blood cells, liver, gallbladder, or pancreas
Liver failure- Chronic liver-related diseases if they get severe or go untreated for a very long time, can cause liver failure
With inputs from Dr Neerav Goyal, Senior Consultant, Liver Transplant, Indraprastha Apollo Hospitals, Delhi
Read more articles on Other Diseases