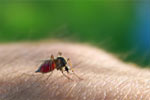 This year's theme for World Health Day is small bite:big threat that engages experts and everyone alike on the importance of identifying and resolving the current status of vector borne diseases across the world.
7th of April is celebrated as the World Health Day across the globe. This World Health Day, the theme is "small bite:big threat". The reason why this was picked as the theme for this year's World Health Day is because vector borne diseases are an important area of concern for public health across the world, especially in India.
Vectors are organisms that are responsible for transmission of parasites and pathogens from one person or animal to another. Some of the examples of vectors include bugs, mosquitoes, ticks, bugs and freshwater snails. The World Health Day campaign 2014 aims at increasing awareness about the dangers that were caused by insect vectors. The WHO says that vector borne diseases make up for at least 17 percent of the diseases. Among these diseases include malaria, Human African trypanosomiasis, schistosomiasis, dengue, Chagas disease, Leishmaniasis, yellow fever, Onchocerciasis, encephalitis. These are the vector borne diseases that are widely present across the globe. In India, the major vector borne diseases in India include dengue, malaria, Japanese encephalitis, chikungunya, kala-azar and lymphatic filariasis.

WHO representative to India, Dr Nata Menabde said that the burden as well as risk of vector borne diseases in India is massive. She also added that th burden of these diseases is concentrated in remote areas of the country that have the poorest of health systems and where the population is the most exposed. A weak collaboration across different agencies, levels of government and sectors are some of the key challenges to fighting away these vector borne diseases. She said that now is the right time to participate in robust collaboration as well as action across different sectors and for targeted community-level sensitisation.
Image source: Getty Images
Article sources: TOI
Read more Health News.