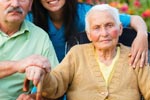 Here is a study that shows how women have it harder than men if affected by Alzheimer's, here is the result of the report.
In a new study it was shown that 65 year old women have 1 in 6 chances of developing Alzheimer's disease later in life and a man of the same age has about 1 in 11 chances. This is the key finding of a report which highlights the heavy toll that Alzheimer's disease takes on women as both patients and caregivers.

The report in "2014 Alzheimer's Disease Facts and Figures" -- from the Alzheimer's Association also said that women who are in their 60s have twice as much chance of developing this disease than developing breast cancer. The report said that there are 2.5 times more women than men who provide 24 hour care for someone who has Alzheimer's and that woman caregivers are also more likely than men to switch from full time to part time. Also, women are more likely to take leave of absence and stop working all together in order to take care of a near one suffering from Alzheimer's.

Angela Geiger, chief strategy chief strategy officer of the Alzheimer's Association, said in a prepared statement from the group, "Women are the epicenter of Alzheimer's disease, representing [the] majority of both people with the disease and Alzheimer's caregivers." The report also mentioned that in American, out of 5 million Americans with the disease about 3.2 million of them are women.

Read more on Health News.