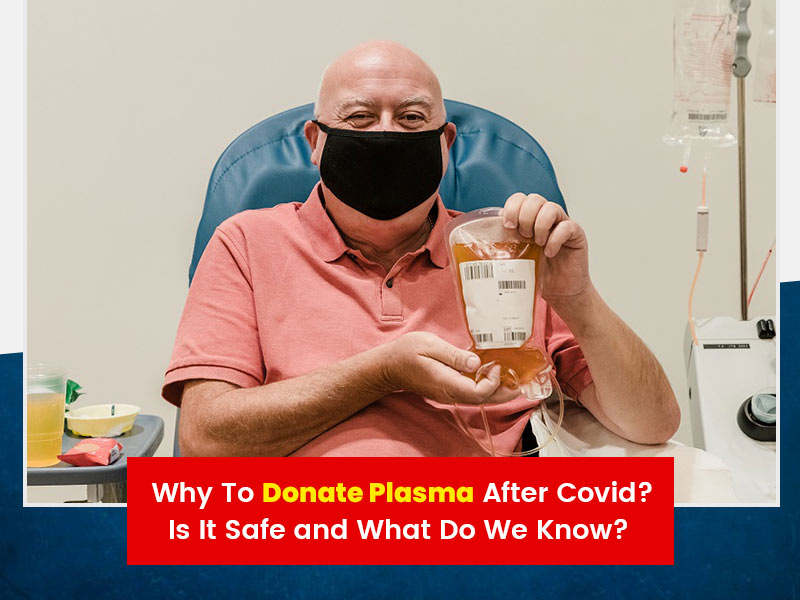 In these times when Covid is taking thousands of lives daily, Plasma and oxygen have become two necessities that can save someone's life. Every day the covid toll is higher by more than 3 lakh which is horrifying when we actually think about it. Medical system and doctors are trying their best to overcome the situation but it is getting worse. One method which can treat the patients of covid is plasma donation. In these times of difficulties we need to stand with each other and support our society. People are somehow scared to donate plasma right now which is creating a panic among the patients and their relatives for much needed plasma. Today let's find out some vital facts through which it could easier for you to come forward for the cause.
Dr. R.K Tyagi, Head-Oncology and Haematology, Sharda Hospital gives inputs on Plasma Donation.
What Is Plasma?
Plasma is basically the liquid part of your blood. The blood constitutes of 4 basic things that is red blood cells, white blood cells, platelets and plasma. Function of plasma is to keep the blood healthy. It carries proteins, minerals, nutrients and hormones to designated places in your body. It contains salts and enzymes which help create anti-bodies which further fight the infection or virus in the body. Hence plasma is needed for curing patients suffering from blood disorders and related diseases. In Covid it helps the patients fight against the virus through the anti-bodies present in plasma.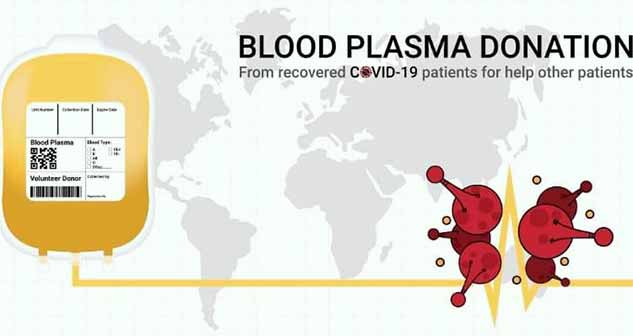 Is Plasma Donation Safe?
Well apart from it being a noble cause of saving someone's life, it is also quite safe to donate plasma. Dr. R.K Tyagi, Head of Oncology and Haematology Department in Sharda Hospital, Pune shares his valuable experience on plasma donation. He says that plasma donation is a very safe and healthy activity. It does not have any side-effects which may affect your health adversely. Most of the people are often scared of donating plasma in general because they assume that they will feel weak and can fall ill. But this is not true and only 1-2 out of 100 people have a significant weakness or infection which is rare if you go to a verified donation centre or hospital.
There are some things which need to be taken care of prior of donating plasma. You should not have any disease such as HIV and hepatitis. You should be above the age of 18 with a considerable weight above 110 pounds. In case of Covid the donation should only be done after 14 days of getting a negative report from a verified covid test. After this diagnosis you can easily donate plasma. Plasma is also different from donating blood because there is a specialised machine which allows plasma to get separated from the blood and rest of it go back inside your body with some saline solution.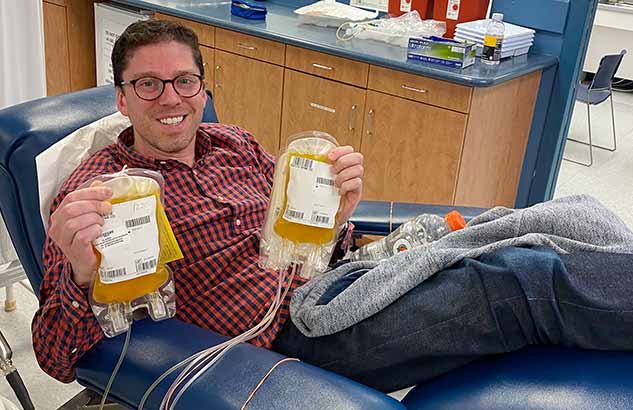 How Does Plasma Donation Help In Covid?
According to Dr. Tyagi, Plasma is not a cure to Covid but helps fight it and eradicate the virus cells present in the body. When a patient is suffering from Covid-19, his ability to fight the virus decreases due to which the person is unable to recover himself. Plasma donation helps to provide anti-bodies to the patient which assists the cells to overcome the corona virus cells.
Person who has recovered from Covid 14 days prior can donate his plasma as his body must have formed anti-bodies against the virus. It also helps the person in providing nutrients such as potassium and sodium that aids cell to be more efficient. Plasma maintains normal blood pressure and blood volume levels in the body which is crucial for a person suffering from Corona.
Also Read- COVID-19 and Typhoid: Can Someone Get Typhoid When Infected With Coronavirus
Are There Any Side Effects Of Plasma Donation?
There are less chances of having a side effect after plasma donation but here are a few of them which you should know before donating your plasma.
1.Dehydration- Well it can be one of the common side-effects people face after plasma donation. It is recommended to drink plenty of water before plasma donation but sometimes it can happen. But there is nothing to worry, it is not severe.
2.Dizziness and Fainting- Some people complain of feeling a bit dizzy after the donation. That is because plasma is rich in nutrients and salts due to which body looses energy. Fainting is not very common but losing some of the substances present in the plasma can cause electrolyte imbalance in the body.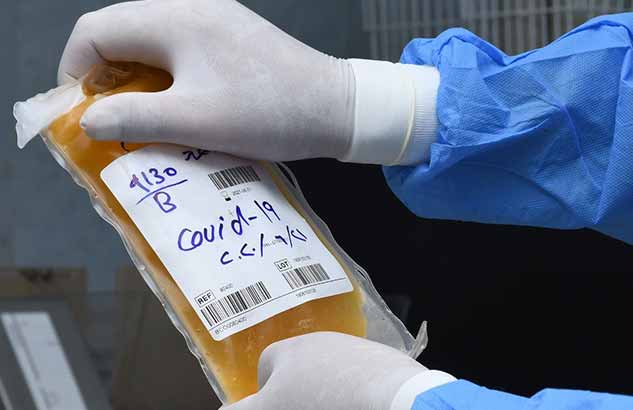 3.Bruising- This is also a mild effects after plasma donation. It happens due to needle, the pinching feeling which occurs when it is inserted inside your vein and then when it is withdrawn. They are formed when blood flows through soft tissue due to needle punctures in a vein. It won't turn severe until you have a bleeding disorder.
4.Infection- This is one of the major cause of people being scared to donate plasma. There is always little risk of getting an infection. Since the skin is punctured, there is a chance of bacteria going into your skin tissue. The needle can further take it to your veins which can cause infection. In that case you may feel warm and it would look swollen and red in that area. If this happens then you should consult a doctor to avoid complications.
5.Citrate Reaction- This is one of the rarest but quite severe side-effect of plasma donation. The technician infuses a substance called anticoagulant in the blood collected in the plasma-separating machine. This happens before the blood is returned to your body. Anticoagulant prevents blood clots formation but normally the machine retains most of it. Citrate binds calcium molecules for short period of time of the small amount which goes inside the body. However in rare cases people who donate plasma have a citrate reaction due to this temporary loss of calcium.
There are some symptoms for citrate reaction-
Numbness or tingling in fingers, toes or lips.
Feeling weird vibrations throughout the body
Chills
Shivering
Experiencing metallic taste
Muscle twitching
Rapid or slow pulse
Shortness of breath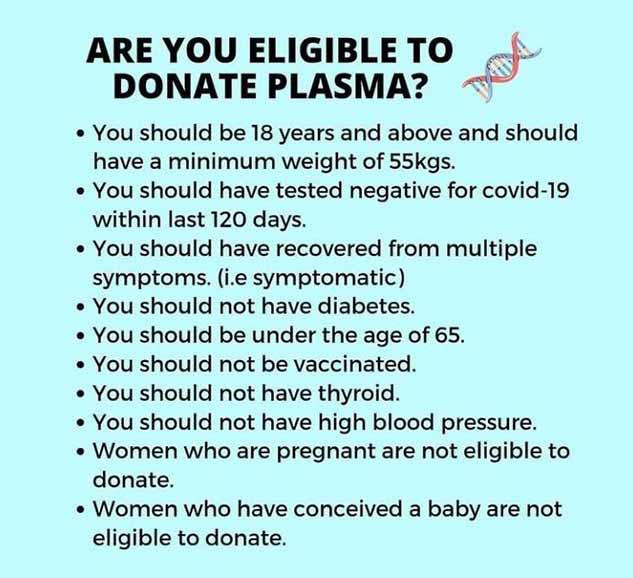 6. Arterial Puncture- This is also one of the rare side-effects which occur during donation. When the needle in inserted into your arm there are slight chances that technician loses your vein and hits the artery. Because arteries have higher blood pressure, it can lead to bleeding in the arm tissue around the area of puncture. The signs which can determine arterial puncture are faster blood flow and lighter colour of blood running through the pipes in the collecting machine.
You may experience weakness near your elbow. Mostly the technician keeps a check on it and will remove the needle from artery immediately. However, if it doesn't then there would be a need of medical attention.
With inputs from Dr. R.K Tyagi, Head-Oncology and Haematology, Sharda Hospital.
Also Read- FACT! Covid Vaccination Does Not Impact Your Menstruation.
Conclusion
Plasma donation is considerably a healthy and safe activity. It helps the patients suffering from Covid-19 to fight against the virus cells present in the body. The plasma contains anti-bodies which are responsible for fighting against diseases. People who have recovered from Covid in past a month should donate their plasma so that the anti-bodies formed in their plasma can help someone save their life. However there are some side-effects which you should be aware of before donating your plasma. Most of them are mild effects and does not have any serious affect on your health. In these tough times we need to support each other and lend a helping hand to overcome this pandemic.
Read More Articles on Miscellanous