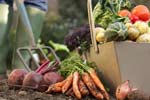 On the occasion of World Earth Day, let's take a look at how and why organic foods make a better food option than the inorganic ones.
Organic foods are becoming increasingly popular and more and more local grocery stores and supermarkets sell organic foods. People who indulge in organic foods consider it to be better for health. But, many of us wonder if we should really pay to buy organic versions of the foods.


Why Organic Foods?
Is it safer? Synthetic chemicals like chemical fertilizers, pest killers (pesticides), weed killers, are used to grow inorganic foods. The Environmental Protection Agency (EPA) states that 60% of herbicides, 90% of fungicides, and 30% of pesticides used for growing inorganic foods can potentially cause cancer. Residual amount of these chemicals are present on the food when it gets to the store. Exposure to large amount of these chemicals can be harmful, however, the residual amounts of pesticides on inorganic foods have not been shown to cause harm.
Is it more nutritious? There is no definite evidence to suggest that organic food is more nutritious than the standard non-organic food. Some research suggests that the nutrient content of organic foods is higher than non-organic food. Like it contains more vitamin C, calcium, iron, magnesium, and chromium. Organic foods probably have more antioxidants. Antioxidants are known to help reduce the risk of certain types of cancer.
Is it better for children? It is possibly a good choice for children especially organic milk and organic baby food as they are likely to be more sensitive to pesticides and their food intake is more for their weight as compared to adults. Some studies suggest that environmental toxins including the synthetic chemicals used in traditional farming are associated with asthma, childhood cancers like leukemia, and learning/behavioral disorders.
Does it taste better? Organic food does not taste better than non-organic food. But they are usually fresh as they do not have preservatives and have to be consumed earlier. Fresher food definitely tastes better. Most of the processed traditional foods have additives to extend their shelf life. Natural additives are used in organic foods. Several food additives have been linked to diseases like heart disease, skin disease, cancer, allergic reactions, headaches, growth retardation, asthma, and hyperactivity in children.
Is it better for the environment? It is definitely better for the environment as the pesticides can harm the good bugs, birds and small animals as well. Using less of these chemicals is good not only for us but for the environment as well. Most people buy organic foods because they want to avoid chemicals, especially pesticides, in their food, but some may do it for the environment.
Is it better for animals and us? Probably yes. But it can vary with condition. Like if the cattle are confined most of the time it is not, but if the cattle can graze in open pastures it is good. Research has shown that use of growth hormones known as BST or BGH to increase the milk production in cows can interfere with the functioning of human endocrine system. People who support organic foods suggest that residual antibiotic in traditional foods can be potentially harmful to humans.

Read more articles on Diet Basics.