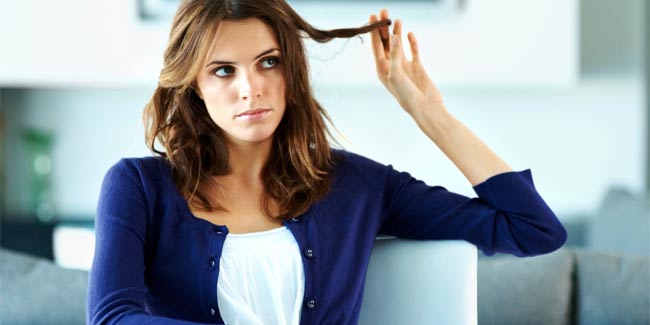 Discover the reason behind dull appearance of your hair.
Dull or unhealthy appearance of hair can add many years to your age. You'll look tired, old and poorly groomed. Moreover, styling becomes a lot more difficult when hair is dull. Some hair types are more likely to dryness than others and may need additional moisture. So, the cause of dullness of hair could also be the hair type. Sometimes, the damage to hair such as split ends could make hair look dull.

Some of the reasons why hair appear dull include:
Too much exposure to the sun, wind, cold weather or chlorinated water.
Excessive combing can cause your hair to appear dull. The friction caused by pulling a comb through the hair wears away the protective external layering of the hair strand called the cuticle. When the cells of the cuticle wear off, the hair becomes damaged, leaving hair dry and dull.
Excessive blow-drying, hair treatments, perming, straightening and colouring rob the hair off moisture, leaving it looking flat and dull.
[Read: Home Remedies for Damaged Hair]
Health Conditions

Sometimes, taking good care hair is not enough. Health conditions such as anorexia nervosa, Menkes kinky hair syndrome, low thyroid levels, low parathyroid levels and nutritional deficiencies too have a role in hair health; dull and dry could be one of a side-effect of these conditions. Moreover, treatment of diseases, certain medications and chronic illnesses can also make hair dull.

What to Do
Discovery Health recommends shampooing hair two times a week with a gentle shampoo (a pH of 4.5 to 6.7) to ensure that healthy, shinny hair. Too much of washing and use of harsh shampoo can cause hair dryness, therefore, should be avoided.
Conditioning is elementary to hair care. Follow shampooing with conditioning. Make sure you choose a fragrance-free conditioner as it contains less alcohol than the aromatic ones. Oil-based conditioners work great for dull hair.
Abstain from use of appliances (flat irons, curling irons and blow dryers) that apply heat to your hair. Instead of these, you can use roller sets, wraps and twists.
You need to brush hair gently and don't do it often.
[Read: Hair Care Tips for Damaged Hair]
You must cleanse your scalp at least twice per week in order to keep hair healthy.
When going outdoors, wear a hat or a scarf to shield hair from harmful ultraviolet rays. If you swim, a swim cap is a must.
Avoid the use of chemical products such as relaxers, texturisers and dyes.
Protein treatment is one of the ways to make hair healthy from dull. These treatments rebuild and straighten the hair, and in turn restore shine.

If you don't notice any improvement after you have made a concerted effort and hair appears to be dull, it is advised to contact your doctor.
Read more articles on Beauty and Personal Care