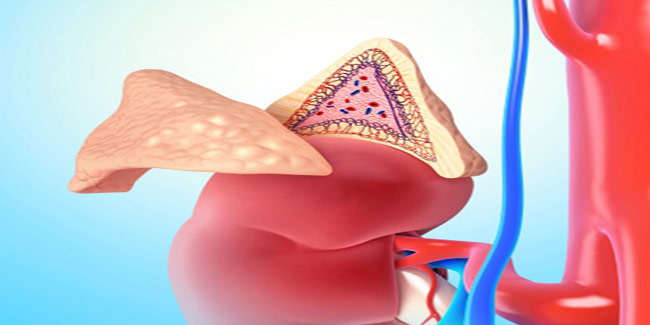 Pheochromocytoma is a non cancerous tumour that develops in central cells of the adrenal gland. The usual treatment for pheochromocytoma is removal of the tumor through surgery.
Pheochromocytoma is a non cancerous tumour that develops in central cells of the adrenal gland. There are two adrenal glands one above each kidney, produce hormones that are responsible for providing instruction to virtually every organ and tissue in the human body.



In pheochromocytoma, the adrenal gland releases hormones that cause persistent or episodic high blood pressure and may damage the cardiovascular system. It mainly develops in people between the ages of 20 and 50, but the tumor can develop at any point of life irrespective of age.

Signs and Symptoms
Some of the common signs and symptoms of pheochromocytomas include: high blood pressure, forceful heartbeat, excessive sweating, severe headache, tremors, pale face, and breathing problem. While some less common signs and symptoms include anxiety, stomachache, constipation and weight loss. All the above mentioned signs and symptoms occur several times in a day or less for around of 15 to 20 minutes.
Causes
The main cause of pheochromcytoma is known yet but researcher understands that the tumor develops in some specialised cells called the chromaffin cells which are located at the center of the adrenal glands. The chromaffin cells produce and release hormones adrenaline and noradrenaline which trigger the fight to fight response of the body to perceived threat. These hormones also lead to high blood pressure, faster heart rate.
Treatment
Surgery is the primary treatment for the pheochromocytoma. The entire adrenal gland is removed during the laparoscopic or minimally invasive surgery. The surgeon will make small openings through which wand like devices equipped with video cameras and small tool are inserted. The remaining healthy adrenal gland can carry out the functions normally and blood pressure usually returns to the normal. However, in cases when the other adrenal gland has already been removed, the surgery is conducted to remove only the tumour sparing some of the healthy tissues. But in case of malignant tumour (cancerous), the surgery works effectively only if the tumour and the metastasized tissues are isolated.
Image Courtesy: Getty Images
Read more articles on Pheochromocytoma Treatment