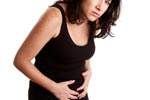 Women with cervical cancer may have a long asymptomatic period before learning of the cancer form. The common cervical cancer signs include excessive vaginal bleeding, pelvic pain during intercourse and vaginal discharge.
Cervical cancer refers to a condition of malignant neoplasm of the cells in the cervix uteri. This cancer form is the second leading type of cancer in women worldwide, second to breast cancer.
In this type of cancer, cells in the cervix uteri grow out of control and gradually spread to the rest of the body. All women are at risk for cervical cancer, but those over the age of 30 years are at a greater risk of succumbing to the disease.

Women with cervical cancer may have a long asymptomatic period before learning of the cancer form. It has to be noted that early stages of cervical cancer do not usually generate prominent symptoms. But, screening tests can identify cancerous cells in the cervix layers.

Some of the symptoms that women may experience in the later stages of cervical cancer are given below.
Unusual Bleeding
Vaginal bleeding is the most common and the first noticeable symptom of cervical cancer that is reported by patients. This is commonly experienced by women who have just had sex. It is important for women to note any unusual bleeding other than the expected monthly period. This also includes menopause when the bleeding would have stopped for the rest of one's life. Make sure that you visit the doctor the moment you observe an unusual acitivity like bleeding from the vagina.
Other Symptoms
Some other symptoms of cervical cancer include:
discomfort and pain while having sex and
vaginal discharge that has an unplesant smell.
Symptoms of Advanced Cervical Cancer



Symptoms that are common in wome with advanced cervical cancer include:
constipation
blood in the urine, which is also referred to as haematuria
swelling of one of the legs
bone pain
changes to bladder and bowel habits
severe pain in the back or shide that is caused by swelling of the kidneys; related to a medical condition called hydronephrosis
weight loss
loss of appetite
lack of energy and tiredness.
When should one seek Medical Help
It is important to note that women experiencing the above symptoms should at once seek medical help. It is not necessary that cancer cells will be detected, but it is always good to go for a screening test and get the condition diagnosed by the doctor. Women experiencing excessive vaginal bleeding might be in the advanced stages of cervical cancer where the cancerous cells might have broken into nearby blood vessels.
Read more articles on Cervical Cancer.