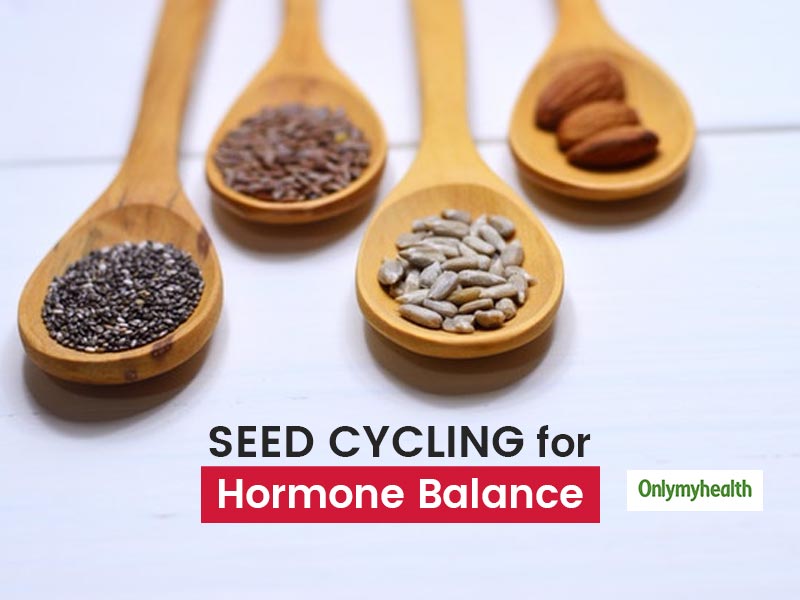 With increase in the cases of Polycystic ovarian syndrome - PCOS in woman and hormone fluctuations, seed cycle shows significant benefit in controlling hormone balance. If you are suffering from acne, bloating, fluid retention, irregular periods, endometriosis, poly cystic ovarian syndrome, seed cycling has shown some significant difference. There is no scientific evidence in showing that it reverses PCOS but it has shown improvement in its symptoms.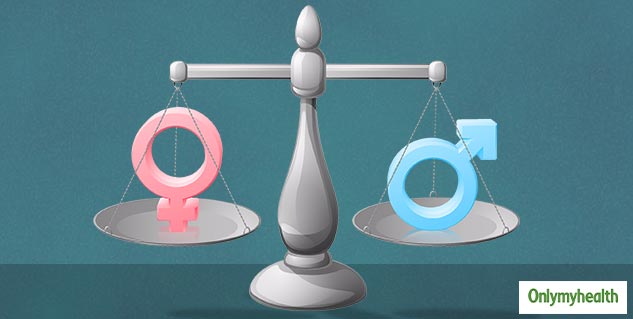 In the first half of the cycle there is an estrogen dominance and post 14 days that is the middle of the cycle progesterone dominates. Therefore, in the first 14 days of the cycle, consume 1 tablespoon freshly grounded flaxseed powder and 1 tablespoon roasted or grounded pumpkin seeds per day. During this phase, it is the follicular phase of the menstrual cycle. The follicular phase starts on the first day of menstruation and ends with ovulation. Prompted by the hypothalamus, the pituitary gland releases follicle stimulating hormone. Flaxseed powder can be added to the smoothies, milkshakes, flour, sprinkled on rice, added to baking and can be consumed at any time of the day during the first 14 days. Pumpkin seeds can be sprinkled on salads, cooked vegetables, daal or soups. Remember to consume these 2 seeds every day. Consuming these foods help in balancing hormones in this phase of menstrual cycle. Follicular phase ends with ovulation which is in the middle of the cycle in 12- 14 days.
Also Read: How To Choose The Best Protein Powder For Gym, Weight Loss, Muscle Loss and Body Building
Recipe for Estrogen phase
Pumpkin Soup (Serves 1)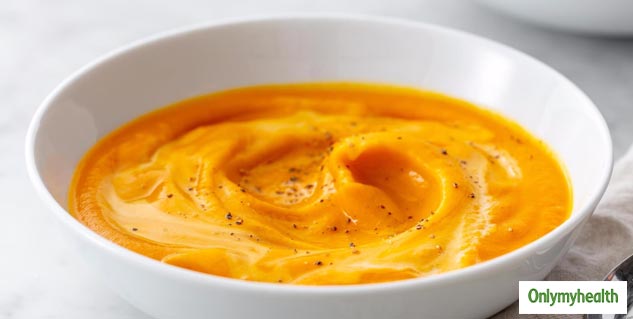 Ingredients
150 gm red pumpkin, with skin
1⁄2 large onions, thinly sliced
1 garlic clove
1 tablespoon thick coconut milk or milk
Kaffir leaves (optional or lemongrass optional)
Water
1 tablespoon pumpkin seeds
1 tablespoon flaxseed powder
Salt and black pepper to taste
Method
Chop the red pumpkin into large chunks. DO NOT PEEL the pumpkin. Thinly slice the onion. Sauté onions with a pinch of salt in a wok. Add the red pumpkin chunks. Add just a little water for the vegetables to cook without browning. Cover and leave to cook until the onions and pumpkin are soft. You can add lemon grass or kaffir lime leaves at this point if required. Blend the vegetable mixture into a smooth paste, retaining the water released from the cooking, if any. DO NOT STRAIN.
Pour the blended mixture back into cooking vessel to heat. Just before serving, remove the soup from the heat and add the coconut milk. Do not allow the soup to boil once you have added the coconut milk. Pour milk. Add crushed black pepper.
Garnish with parsley, flaxseed powder and roasted pumpkin seeds. Marinate the pumpkin seeds in lime juice and salt, and then bake in the oven until seeds are crisp and toasted. Sprinkle as garnish to the soup.
Note- If you are not comfortable with soup, sprinkle flaxseed powder in milk or curd and consume it. One can also sprinkle pumpkin seed on salads.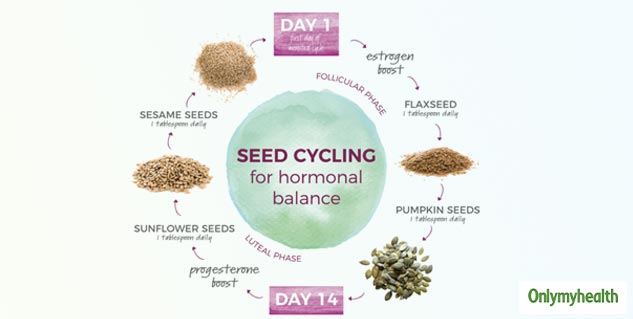 During Luteal phase begins after ovulation. It lasts about 14 days and ends just before a menstrual period. In this phase, the ruptured follicle closes after releasing the egg and forms a structure called corpus luteum which produces progesterone. During this second half of their cycle, eat 1 tablespoon each of ground sunflower and sesame seeds per day until the first day of their next period when their cycle starts again. Menopausal woman or any woman with irregular menstrual cycle, it is recommended to use the phases of the moon to guide to the cycle dates. The day of the cycle should begin on the new moon.
Recipe for Progesterone phase/ Luteal Phase:
Mewa Laddo Recipe Makes (Serves 12)
Ingredients
1 cup walnuts
8-10 almonds
1/4 cup chocolate powder
1 cup fresh pitted dates (approximately 10)
¼ cup sunflower seed
½ cup sesame seed Coconut for rolling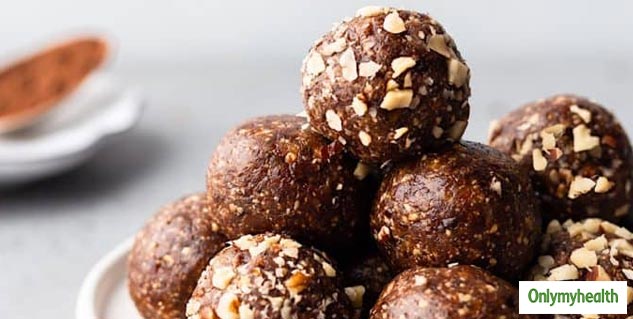 Method
In a food processor, combine walnuts, almonds, sunflower seeds, sesame seeds and cocoa powder. Process until combined and walnuts and seeds and almonds have broken up.
Add the dates and process again so that the mixture starts coming together into a ball.
Add a touch of water (1-2 tbsp.) if you need to so that the mixture comes together.
Rollmixintoballsandthenintococonut.
Refrigerate for 15 mins to set. 6. Keep refrigerated for up to 2 weeks.
Note: If you cannot eat laddoo, sprinkle sunflower seed on salad or vegetable and daal. It can also be consumed raw. Sesame seeds can be eaten raw as well or mixed with chutney.
Also Read: Hashimoto's Or Thyroid: Your perfect Diet And Lifestyle Hack, Explained By Dr Bathwal
Disclaimer: Above mentioned seed cycle should be followed for a minimum of 2 months to see the difference in health. Individuals requirements can vary. Please consult your health professional where needed.
Read more articles on Healthy Diet