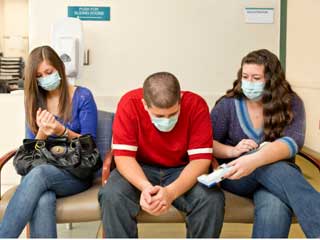 The commonest complication of swine flu is secondary bacterial infection of the respiratory tract such as bronchitis, or pneumonia. Read about some more complications that are associated with swine flu.
Swine flu or swine influenza is a communicable infection that usually affects pigs but can also be contracted by humans, resulting into human swine flu.

It is a viral infection and is caused by type A H1N1 subtype which can also cause infection in people. The letters H and N in the subtype name stand for proteins found on the surface of the virus, which are used to distinguish between different subtypes. Other virus subtypes found among pigs include H1N2, H3N1, and H3N2.

Swine flu doesn't usually affect humans however, periodic human infections may occur, most of which result from direct contact with pigs. People who work on pig farms and slaughterhouses are at the highest risk of developing this infection.




There have been cases of person-to-person transmission of swine flu. But doctors haven't been able to understand clearly how this virus spreads easily among people. They believe that the virus spreads like regular seasonal influenza.

Swine flu can easily be mistaken for a seasonal flu given its flu-like symptoms such as cough, fever, loss of appetite, tiredness and lack of energy.

Complications associated with Swine Flu
Some people with swine flu can report some complications like:
Worsening of chronic conditions, such as heart disease, diabetes and asthma
Pneumonia
Neurological signs and symptoms, ranging from confusion to seizures
Respiratory failure

If you have been diagnosed with swine flu (H1N1 flu), you can give it to others starting about 24 hours before you develop symptoms and ending about seven days later. So, staying home is a better idea.
Read more articles on Swine Flu Causes and Risks