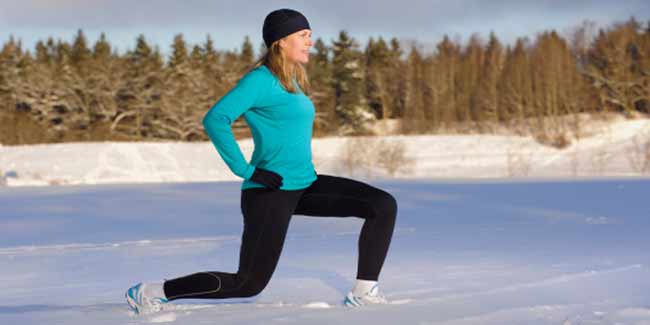 With the advent of winters, hitting the gym or going out for the daily run or morning walk becomes difficult because we tend to get lazy. But that's no excuse to not keep yourself fit.

The cold weather can make training a constant challenge even for the fittest people out there, and most people just don't have the driving force to even attempt that challenge. This causes them to opt for more sedentary lifestyles than they usually partake in.

Here we have brought for you a list of tips to avoid a winter workout halt so you can make a solid progress. When the chilly winds stop and the snow melts at winter's end, you'll be looking and feeling great.



Embrace the Cold Weather
One of the best ways to enjoy a workout during the cold months is to get out there and face it like a man. Or a woman. Whatever your favourite exercise is, getting outside will inspire you and you will provide a great change of pace from confining yourself up inside all the time. If you live in a place where it snows, running in the snow is an intense activity that will wear you down quickly and hence give you a great workout. Remember to get back inside before you sweat freezes.
Gear Yourself with New Appurtenance
To get out in the cold, you'll need some new clothes and/or shoes to help you get outside, or into the gym. They will not only make you look better while working out, but will also provide you with the proper shield to face the cold. The monetary investment will motivate you to make your purchases worthwhile. Though, you don't need to spend too much, but also don't go for the cheapest available thermal leggings or gloves unless you can tell that they will be effective.


Take Things Slow
The days become shorter and you don't really get time for many things. If work is really slowing you down, and/or if you're really feeling the winter blues, don't bother to have a long, continuous workout at the end of the day. Setting goals that involve an accumulation of exercising over the course of the day should be your workout agenda for winters. Don't make it so that you have to do it all at once.
Get a Workout Buddy
Training with a friend is one of the best ways to increase your response. When you train with someone, whether it's a friend or personal trainer, they force a different, enhanced level of effort in your training. If you exercise with someone else, you have to keep to more of a set schedule and you push each other to achieve more. This gives you a much better time getting fit than you'd have alone. If this course of action isn't a part of your workout routine already, the winter is a great time to start exercising while being a bit more social than usual.

Another simple trick to break the winter workout rut is to refresh your workout playlist. Add some new music to get your going and try to get a collection that helps you exercise fast enough to cause your heartbeat to go up between 120 and 140 beats per minute.

Image source: Getty