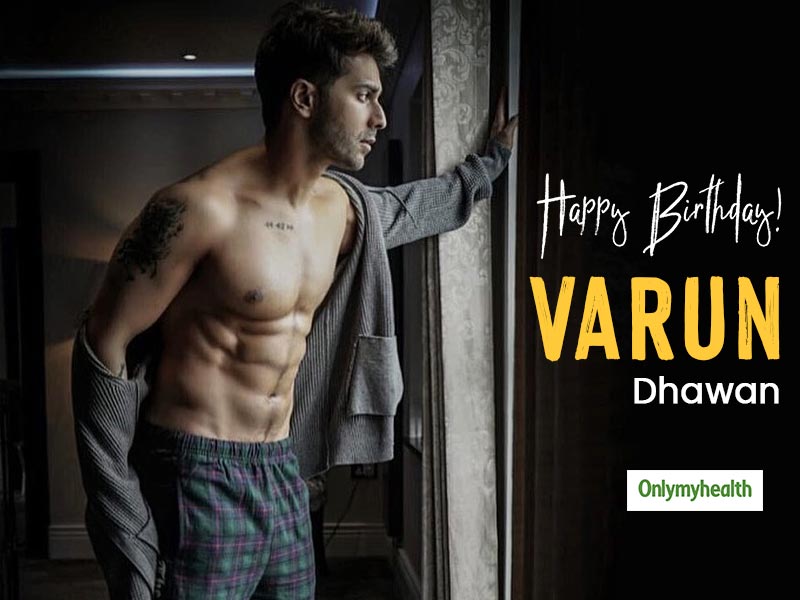 Varun Dhawan Birthday Special: Varun Dhawan is the new sensation in Bollywood among the younger stars. He has proved himself in various movies, and his work was recognised many times. The actor has an immense female fan following and all the credits go to his good looks. Not just good looks and excellent acting skills, Varun Dhawan is giving some primary fitness goals to his fans. The actor has a fabulous physique, and his supporters are going crazy to know the secret behind his perfect body. The 'Kalank' actor keeps his fans updated on social media with his workout pictures and videos, which makes his fitness routine more popular. His hard work and the excellent results are visible in the videos that Varun posts.
On his 33rd birthday, we are bringing you five clues that you can take from Varun Dhawan to achieve toned abs:
Dedication
Varun's involvement and dedication for fitness is the golden tip you must take from him. You will always notice Varun's commitment and sincerity towards his fitness regimen.
Stay motivated
For some motivation, you can stalk him on social media because his fitness pictures and videos will give you primary fitness goals. His abs are one of the major reasons behind his huge female fan following. So, just take your phone and stalk the actor on social media and his pictures will make your move.
Eat healthily
Not just exercise, the right food is also essential to achieve abs. You should be very careful about what you eat. Count your calories and opt for a healthier option.
Also read: Health Benefits of Planking Other Than Weight Loss
In his release 'Kalank' Varun went under a complete training and build a fabulous physique and toned and perfect abs. The actor has shared his training journey through various pictures and videos on Instagram. He has invested some serious efforts and a lot of hard work to achieve those abs. While captioning one video, Varun wrote, " I have been training and trying to get stronger for a crazy action sequence for #kalank."
Varun posted a video on Instagram, in which he is involved in a night training session for 'Kalank'. In that specific post, he mentioned that he was very excited to train himself for his character in 'Kalank'. When it comes to the secret behind his abs, he wrote that one should keep the core engaged all the time.
For toned abs like Varun Dhawan, you need to focus on core exercises. The best training that focuses on the core the most is - Planks. You can practice plank or the variations of planks. You can also try isolation core workout just like Varun Dhawan, which will also give you great results.
Read more articles on Exercise and Fitness