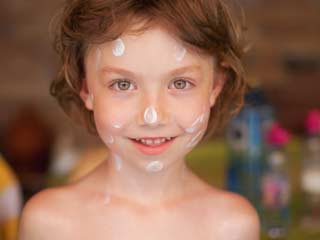 Using sunscreen as early in life as possible prevents the development of dangerous skin conditions like melanoma later in life.
Researchers have claimed that the occurrence of malignant melanoma in adults can be reduced significantly by the regular or consistent use of sunscreen during childhood or in infancy. John L. VandeBerg, Ph.D., senior author of the study said that the researcher was driven by the fact that even after an increasing use of sunscreen in the recent years, the incidence of malignant melanoma, which is the most aggressive form of skin cancer, continues to increase significantly.

VandeBerg said that even though sunscreen is highly effective in the prevention of sunburns, the paradox has triggered some people to question whether the sunscreen is effective in the prevention of melanoma cased by ultraviolet light or not.

Scientists at the Texas Biomed researchers found that applying lotion that contains sunscreen to an infant opossums led to 10-fold reduction in pre-melanotic lesions compared with infant opossums that received lotion that did not have sunscreen in it.

This difference in the development of lesions occurred even with low doses of UV light being applied; the doses were so low that they did not cause any sunburn or reddening of the skin in the opossums that did not get the sunscreen. The pre-melanotic lesions did not appear until the infants became adolescents; experiments that were done previously established that pre-melanocytic lesions in the opossums do not really progress to melanomas until the animals are adults, as is typically observed in human beings.

The study was published in the scientific journal Pigment Cell and Melanoma.

Article source: zeenews
Image source: Getty
Read more Health News.