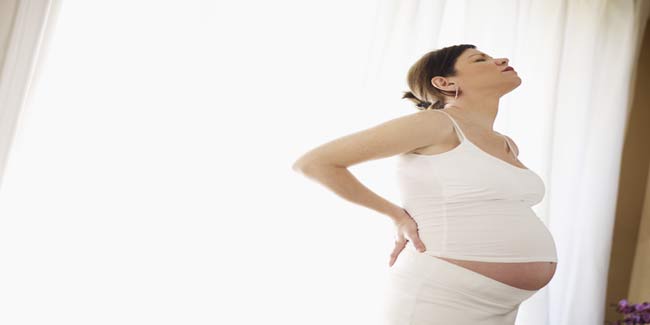 Lower back pain and pelvic pain are two types of pains experienced during pregnancy. Know the different symptoms in order to differentiate and seek medical help whereever necessary.
Back pain can be relatively common for all pregnant women and they must sincerely take care of themselves to prevent the pain from aggravating.
It has been estimated that between 50 to 80 percent of women face some sort of back pain during pregnancy. It can be mild or acute and can even become chronic demanding immediate medical assistance. Lower back pain during pregnancy usually occurs after the fifth or seventh month. But, women who have a pre-existing condition of lower back pain are likely to develop it earlier in pregnancy. In some women, it starts as early as 8 to 12 weeks.
Types of Back Pain in Pregnancy
Lower back pain:This occurs above the waist at the centre of the back. You may alongside experience pain that affects your leg or foot simultaneously. Symptoms of lower back pain during pregnancy are similar to that of normal back pain experienced by women. This usually occurs due to strain and is accentuated by different postures such as sitting and standing for long or lifting objects several times. Tenderness in the muscles and spine is a general symptom of lower back pain.
Pelvic pain:This is a kind of pain much more prevalent than lower back pain during pregnancy. It is felt as a sharp pain at one side of the waistline, or on either side of the tailbone. This pain can spread all the way to the buttocks and be felt even at the posterior thighs (back of the thighs). Unlike lower back pain, pelvic pain does not shift below the knees. Women need to avoid strain and certain postures to get respite from this pain. Pelvic pain is not linked to any condition women may have before pregnancy. Moreover, good fitness levels before conception does not ensure that a woman would not be affected by this pain.
At times women get confused between lower back pain and sciatic pain. For women suffering from herniated disk before pregnancy, the occurrence of lower back pain can suggest sciatic condition. These women need to differentiate between the two to be able to decide whether they should seek help from their doctor or not. Sciatic pain is much sharper than the common lower back pain experienced during pregnancy and is accompanied by numbness of the groin area, particularly in severe cases.
Causes

The possible causes for your back pain are:
Weight Gain
Posture Change
Changes in hormone levels
Movement of muscles from their original place
Stress
Labour Pain
Labour pain signals the end of a pregnancy term and the birth of a baby. Some symptoms of this pain are as follows:
It is persistent.
Its intensity gradually increases from short periods of 4 to 24 hours to, at times, 48 hours.
Your level of activity has no impacton labour pain i.e. unlike other pains during pregnancy, labour pain is not induced by unwarranted activity.

The good news amidst all of this is that unless you had chronic back pain before getting pregnant, your pain will gradually decrease before you give birth.

Read more articles on Problems during Pregnancy.