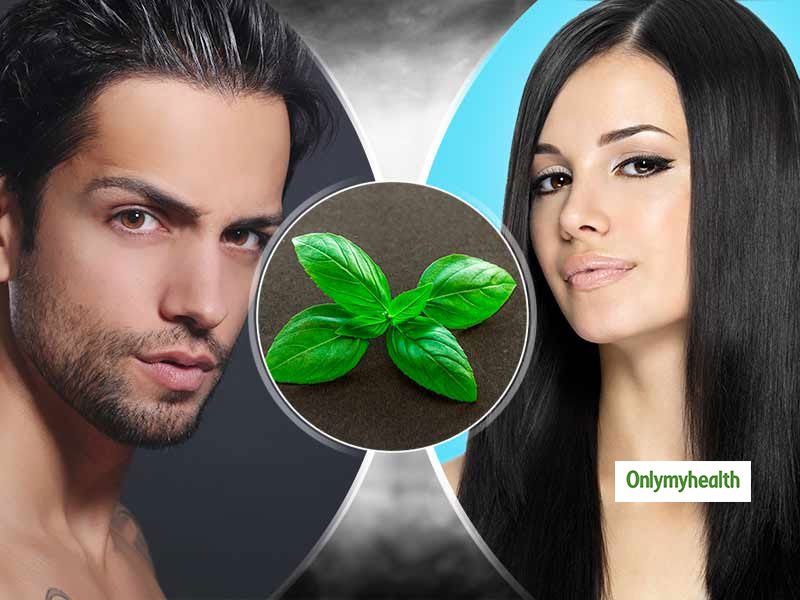 Basil leaves are considered to be an ayurvedic cure for several hair problems. Tulsi plant is counted among one of the most the sacred plants in India. There are many benefits of tulsi leaves in Ayurveda. According to an estimate, humankind has been using basil for about 5,000 years. Basil leaves contain many antioxidants and minerals, which are beneficial for the mind and body. Apart from this, basil leaves are also considered extremely therapeutic for hair and skin. Just three washes with basil leave water can help resolve problems of hair breakage, premature greying and thinning of hair strands.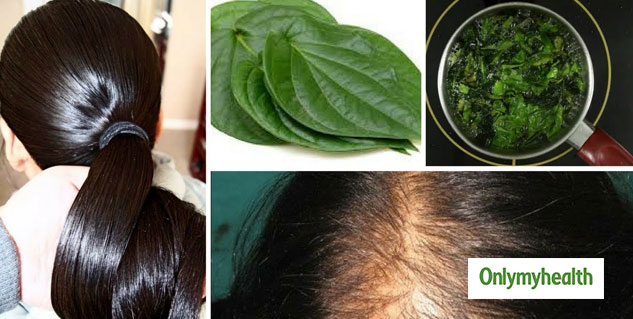 Basil For Dandruff
It is common for people to experience problems with dandruff and flaking. Dandruff can be caused due to several reasons, including a lack of moisture in the scalp. You can easily use basil leaves to get rid of dandruff. This herb has antibacterial properties, so using it on the scalp keeps it healthy and free of several hair problems.
REMEDY: Take 15-20 basil leaves and wash them thoroughly. Grind them by adding a little water to it. Now apply this paste on your scalp and leave it for 30 minutes. Wash your hair using cold water only. Using this mixture 2 times a week works well in eliminating dandruff.
Also Read: This Tibetan Remedy Can Reduce Hair Loss And Premature Graying
Basil For Frizz Control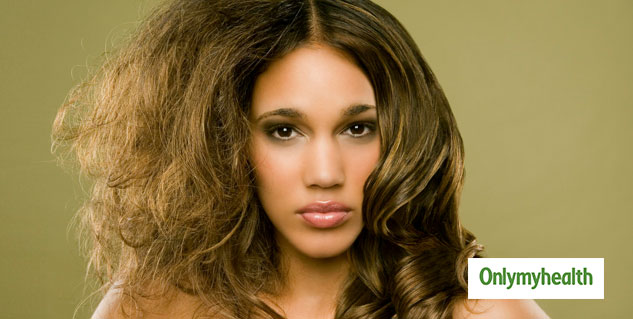 Dryness and frizz is a common hair problem faced by many. Due to dust and external factors, hair starts appearing rough and lifeless if proper care is not taken. Also using external heating instruments on hair add to the worry. It is essential to apply a heat resistant spray before using any hair straightener or blow dryer to reduce the chances of hair damage.
REMEDY: To eliminate dryness, grind basil leaves and take 1 teaspoon of its juice. Now before going to bed, add 1 teaspoon of basil leave juice in 1 teaspoon coconut oil, and massage it on the scalp in a light circular motion. This helps in increasing the blood circulation. Wash your hair in the morning with a mild shampoo and see the difference. Your hair will become silky, less frizzy and easy to control.
Basil For Hair Breakage
The problem of hair loss and breakage has increased manifold due to pollution and other external factors. Also, tying your hair too tightly can lead to breakage. Sometimes due to genetic reasons, hair starts falling at an early age. Basil leaves also helps in overcoming this problem.
REMEDY: Extract the juice of basil leaves as described above. Break capsules of vitamin E and add to the juice extracted. Apply this mixture on your hair before sleeping. Wash your hair with an Ayurvedic shampoo, and you are good to go for the day. It also works as a natural conditioner.
Also Read: How to Use Olive Oil for Hair Growth
Basil For Premature Greying of Hair
If you are suffering from the issue of premature greying of hair, then basil leaves are a must for your haircare routine. Basil leaves help in strengthening the hair follicles, giving it the required nutrition for proper growth. A combination of dried gooseberries and basil leaves work wonders on the hair. Also include natural citrus foods like seasonal fruits, oranges, grapes and strawberries in your diet
REMEDY: Soak dried gooseberries in 1/4 cup of water overnight. Take these soaked gooseberries and grind it with 12-15 fresh basil leaves in it. Apply this paste on the white hair patch and leave it for 30 minutes. Wash your hair with a mild shampoo. Using this mixture 3-4 times will give you better results.
Read more articles on Hair Care