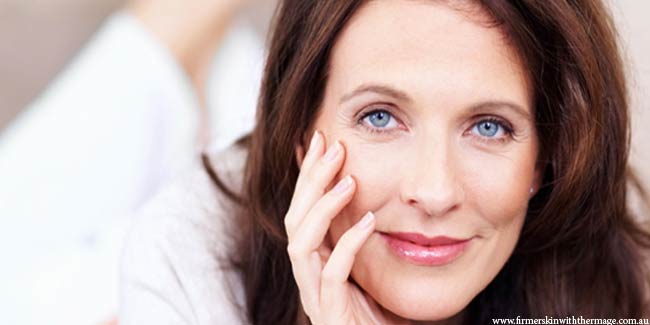 Sagging skin is one the most common signs of you aging and the lack of firmness in your skin is due to the loss in elasticity that the skin had in younger years. Saggy skin could also be a consequence of sudden weight lose or even an unfortunate event for your skin post pregnancy.


The saggy nature of your skin is most vividly seen on the face and the neck, and there are people who jump to surgeries for help, but there are risks involved in these surgeries and are very expensive. There are other alternative methods that can help you to get rid of saggy skin.

Moisturise Skin

According to Michelle Copeland, author of Change your Looks, Change your Life, "Moisturizer is needed to deliver water to the skin's cells, keeping them full and balanced, and to seal that moisture in". This is considered to be one of the best ways to tighten loose skin on face and neck region. So, do moisturize daily. Using almond oil that is rich in vitamin E and has natural soothing and moisturising properties for skin tightening should be of great help. You could also use this to tighten the skin under your eyes and around your mouth. You would be able to reduce deep wrinkles and fine lines from your face and neck.

Eat Properly

There are two necessary ingredients that help to keep the skin plump and elastic and these are collagen and elastin. Protein-rich foods such as cottage cheese, milk, legumes, tofu, beans, seeds, nuts and fish all have these in them. For optimum absorption you should squeeze 100-200 calories of these sources that give you protein immediately after doing exercises (if you do exercises, which you should).

Stay Hydrated

This is another very important thing to do; drinking adequate amount of water will benefit your entire body and also will help you to maintain your skin's elasticity. From both your sources of food and drinks you should be able to consume at least two liters of water each day. Howard Murad (M.D.), author of AARP The Water Secret, to have water in your cells implies that you will function at a higher level and increase your basal metabolic rate so you can burn calories and avoid accumulating fat that tends to sag as one ages. If you want your skin to tighten sagging skin naturally or prevent them from sagging then you should drink at least eight glasses of water every day. While making your skin elastic, it will help to flush all the toxins out from your body and provide the moisture to keep your skin supple, firm and tight.

Stay away from Harmful Cosmetics

When using cosmetic products you should be careful not to use products that have sulfates, such as soaps, shampoos and dishwashing liquids. You must also limit your exposure to the sun and stay away from skin tanning. Try not to expose yourself to hot and chlorinated water as these will decrease the elasticity of your skin.

Sunscreen

Do apply sunscreen on your face and neck; this is one of the best natural ways of tightening the skin that is sagging. By using sunscreen you will be able to protect your skin from the sun's harmful UV rays. Use a good quality sunscreen with an SPF level that is not more than 30. This will prevent the skin from wrinkling and sagging of the skin.

Read more articles on Anti-ageing.