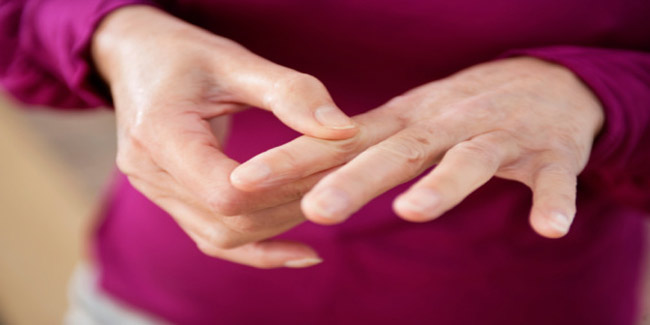 Arthritis is degenerative, and its symptoms tend to worsen with time. Here is what you need to do about arthritis pain that can interfere with even the simplest of day-to-day tasks.
Arthritis is a condition characterised by damage to the surrounding areas of the joints within the body. There can be several reasons behind arthritis; the risk factors include genes, poor posture, vitamin deficiency and illness/disability.
Anyone can become arthritic; the condition wears away at the cartilage and synovial lining of a joint. As a result, the cushioning material between bones is no more there. Arthritis in the joints of the hands causes pain and stiffness. In simple terms, it feels like you have lost strength in your hands. The discomfort can interfere with even the simplest day-to-day tasks.

The treatment options for arthritis pain in hand are as follows.
Exercise



The common belief is that exercise can make arthritis worse. Contrary to popular belief, an arthritic patient must keep exercising regularly to avoid pain. Take out 20 to 30 minutes a day to exercise. There are certain hand exercises that can keep the joints flexible, improve range of motion and relieve arthritis pain. Consult your health care provider for the exercises.


Natural Healing



Natural treatment options for arthritis pain aim to reduce inflammation, and restore bones and cartilage health. Some common natural treatments for arthritis pain include manganese, niacinamide, chondroitin and green tea. These treatments work to slow the effects of the ageing process, relieve inflammation and promote natural joint health.
Medications



Aspirin is a proven way for arthritis pain relief. This is why many patients are recommended aspirin when they first get the disease. You can also try over-the-counter anti-inflammatory drugs for arthritis pain. You can consult a doctor and get a prescription in case over-the-counter anti-inflammatory drugs don't work for you.
Topical Treatment



There are plenty of good pain-relieving creams available over the counter. Look for ointments containing capsaicin (derived from cayenne pepper).
At-home Treatment



One can also use ice packs on painful, tender joints as these can reduce inflammation (taking pain away with it). Applying ice to hands can also temporarily numb the area. Try ice-pack (cold therapy) and see if it works. Among other at-home treatment is soaking hands in warm water, also referred to as hot therapy. Keeping hands in water for 10 minutes can relax your muscles and increase blood flow throughout your body, and reducing pain henceforth. If you see your skin turning red after soaking hands in water, consider adding some cold water.
Arthritis is degenerative, and its symptoms tend to worsen with time. Treatment and medical intervention is essential to slow the progress, and relieve the symptoms.
(Image source:Gettyimages)
Read more articles on Arthritis.