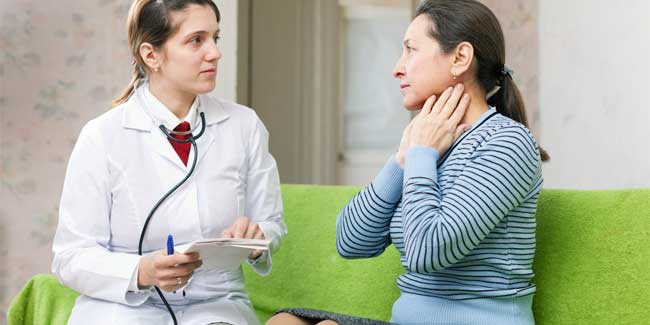 Gong undiagnosed with thyroid can pose as a big threat, because it can increase your risk of obesity, heart disease, depression, anxiety, hair loss, sexual dysfunction, infertility and many other symptoms and heart problems. The hormones that the thyroid gland produces influence almost all the metabolic processes in the human body.

[Read: Treatment of Hyperthyroidism]

It is not that you need to have all these signs and symptoms, but here are few of the important signs that if seen, should be taken seriously.
Muscle and Joint Pains

You should go for thyroid diagnosis if you happen to experience aches and pains in your muscles and joints. You will feel weakness in your arms and there will be a tendency to develop carpal tunnel in the arms and hands, tarsal tunnel in the legs, and plantars fasciitis in the feet. All of these are symptoms of undiagnosed thyroid problems.
Neck Enlargement or Discomfort

Another sign is the feeling of swelling in the neck, you will feel discomfort with turtlenecks or neckties, and you will start having an unusual hoarse voice. There can also be a visibly enlarged thyroid, and all of these may be signs of a goiter, which is an enlarged thyroid gland and is a symptom of thyroid disease.

[Read: 5 Things to Know about Thyroid Problem]

Hair and skin Changes

You will notice that your hair and skin are particularly vulnerable to the thyroid conditions, and this is more so with frequent hair loss. Hyperthyroidism may cause your hair to become brittle, coarse and dry, and it can break off or fall out easily. Your skin can also change by becoming coarse, thick, dry and scaly. If it is a case of hypothyroidism then you will experience an unusual loss of hair in the outer edge of the eyebrow.
Bowel Problems

You can also experience severe or long term constipation as this is quite frequently associated with hypothyroidism. On the other hand if in case you experience diarrhea or irritable bowel syndrome then that is supposed to be associated with hyperthyroidism.
Irregularities with Menstruation and Fertility Issues

If you are a woman and you tend to experience more frequent and more painful periods then it can be associated with hypothyroidism, and shorter, lighter and in frequent ones can mean a case of hyperthyroidism. Also, infertility can be associated with undiagnosed thyroid conditions.

[Read: Hyperthyroidism Affecting Fertility]

Family History

If in case you have a family history of thyroid then you are at a greater risk of having the disease, you may not always be aware of the problem in your family, but among older people it is referred to as gland trouble or goiter. Therefore find out if anyone has glandular conditions or goiter or even weight gain due to glandular problem, these indirectly refer to thyroid conditions.
Cholesterol Issues

If in case you have high cholesterol and it remains unresponsive to diet, exercise or cholesterol lowering medications, then it can be a sign to undiagnosed hypothyroidism. Also, if you have unusually low cholesterol then this may be a sign of hyperthyroidism.
Depression and Anxiety

If you have depression or anxiety, and experience sudden onset of panic disorder, then these can be symptoms of thyroid disease. Hypothyroidism disease is mostly associated with depression, where as hyperthyroidism is more usually associated with anxiety or panic attacks. The type of depression which does not respond to antidepressants may be a sure sign of undiagnosed thyroid disorder.
Change in Weight

If you are on a healthy diet and have committed yourself to exercise regularly but with no visible result, then you should be worried. Difficulty in losing weight can be a sign of hypothyroidism. There is a chance of you to lose weight eating the same amount of food as usual or losing while eating more than normal. Unexplained weight changes and issues can be signs of both hypothyroidism and hyperthyroidism.
Fatigue

If you feel exhausted when you wake up, even after eight to 10 hours of sleep at night and then you are unable to function all day without a nap, then these can be signs of thyroid problem.

Read more articles on Thyroid