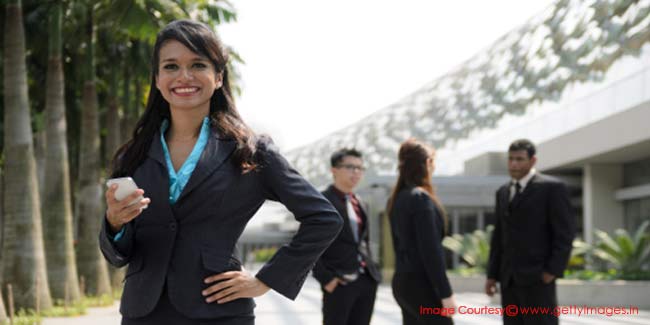 Getting ready for office is a tricky job, women are often worried about doing too much makeup. Here are some tips to wear the right make-up to office .
The workplace is a tricky place to dress for, especially for women. You want to give the impression that you're a complete professional, but you want to look good too.
Too much make-up is definitely not a good idea in a serious, sober office, but that does not mean that you can't look good or wear any make-up at all.

The lights in an office can be brutally honest, and show up all your make-up faux pas, so it's important that your make-up be smooth and even, and focuses on highlighting your natural beauty than on covering up blemishes. The most important thing is to avoid being gaudy or excessively made-up in a work environment.

The first rule of office make-up is moderation. Don't overdo the colours in your lipstick, on your cheeks, or even around your eyes. It is safer to err on the conservative side.

A bright purple lipstick and matching eye-liner may go very well with your dress for the day, but may not be saying 'I'm a professional' to your boss.

Another thing to keep in mind while dressing for work is to highlight one aspect of your face. If you like your lips, play up the colour on your lips, but tone it down around your eyes and cheekbones.

Daily Mail recommends the following look for office. An easy guide to look polished at the workplace, with just six easy tips:
Step One
Apply a light-reflecting foundation, blending carefully at the jaw line.
Your skin should be left looking dewy and fresh - ideal for a daytime look.
Cover any imperfections or dark circles with a light-reflecting pen.
Step Two
Keeping close to the lash line, apply a soft grey pencil along the upper eyelid, then the lower outer eye rim, taking the line three-quarters of the way across.
Using a brush, sweep the grey eye shadow across the lid.
Step Three
Apply a couple of layers of mascara, working the lashes from the root with a zigzag motion - but don't go overboard.
Open the eye with a white eye pencil used on the inner rim of the bottom lid.
Step Four
The smoky eye is the focus, so choose a natural lip colour.
Starting at the Cupid's bow, take the lip liner to the corners of the mouth.
Then fill in the whole lip using the liner, as this will prove a good 'fixer' for your lipstick.
Step Five
Match your lipstick to your lip liner and gradually build up the intensity of colour to save you having to reapply so often during the day.
Seal with a slick of clear lip gloss.
Step Six
Add a touch of highlighter across the cheekbones.
You can use your usual shade to highlight the arch of your eyebrows, but at this time of year it is nice to use a bronze highlighter to give the look an autumnal tone.

If it's an important presentation where you're looking to (literally!) catch everyone's eye, go for a dramatic effect around your eyes (maybe a smoky kohl-lined look), but keep your lip colour in flesh tones, and nude colours. Mascara and curled eyelashes are always a good idea because they give you an open-eyed, alert look.

In office, you might want to tone down the foundation as well. Apply fluid only where it's absolutely needed. It is better to wear the kind of make-up that doesn't need too much touching-up during the long work day.

Don't entirely ignore your make-up throughout the day either. So, carry your essential make-up things in your purse, so that you can touch up when you have to.
Read more articles on Eye make-up