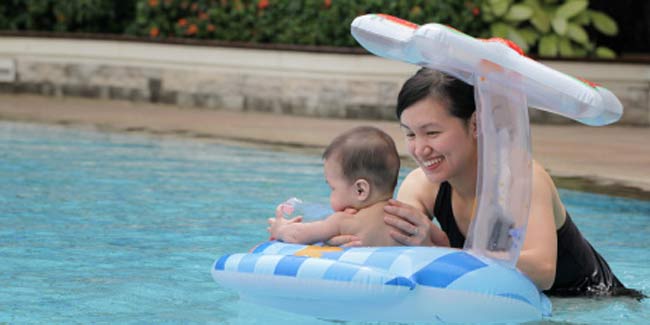 To give those blisters some soothing effect, many of you would like to spend the evening by your pool-side. But, to avoid this leisure tuning into a nightmare, few precautionary measures are must.
The season of unbearable heat and the scorching sun has arrived and a little relaxation by the poolside is what everyone must wish to have now. However, the summer pool-side fun can turn into a nightmare if proper precautions and safety measures are taken for granted. So, here are few safety tips which you and your family must follow to avoid any mishap by the pool-side.
Water Safety
Being safe inside the water is of utmost importance for you. This becomes even more important if you have children with you.
You must know how to swim and must encourage all your near ones to learn swimming before entering the swimming pool for fun alone.
Keeping your first aid skills updated is also a very important part of the precautions you must take before hitting the pool.
If you have kids with you, you should never lose sight of them especially, when they are inside the pool. Also, you must keep them away from drain pipes or filters.
To counter any emergency, your mobile phone or the cordless phone must be kept accessible.
Equipment for safety
To prevent any mishap turning into a lifelong remorse you must carry some safety equipment with you to the pool. This equipment may include stair rails, safety ropes, and floating devices.
Avoid sneaking in
You must ensure that the pool area you own has a limited access. Many accidents which take place on a pool-side happen due to easy access to children who enter without adult supervision. Have the surrounding of your pool properly fenced and have a locking gate. This will give the outsiders a limited access and the accidental drowning can be prevented.
Lockable cover
If you have a lockable cover on the pool it will be an added security measure which will prevent people and children who are new to the swimming techniques from entering the pool without any supervision. You should put alarms if the pool is located in the nearby area of your house and not inside the premises. If a door separates your house from the pool, make sure it stays locked and does not give easy access to anyone.
Safe pool toys
Your swimming pool can be one of the best places to have fun with your family and friends. But, these fun activities can lead to more fatigue inside the pool and to support your fatigued muscles a floating toy is what you must keep handy.

These basic precautionary measures will let your stay safe and have an enjoyable time with family and friends while beating the heat.
Image Source: Getty