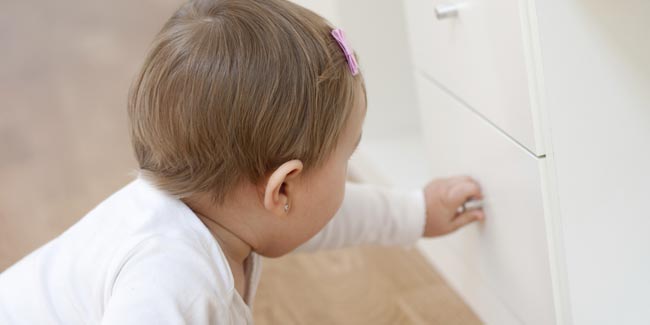 New parents, especially first-time parents, worry endlessly about preventing and treating baby's health concerns. There is much confusion about what to expect in the first year, issues regarding baby's safety and well-being.


Parents need to consider safety beforehand for the new arrival in their home. Planning in advance can help babyproof your home. Besides baby safety equipment such as baby cot, your own supervision is important. No matter how good are your safety arrangements, you will still need to keep an eye on things and lookout for possible dangers.
Look at your home in a new way



With the arrival of a baby, your topmost priority is taking care of him/her. It is not only your home; but baby's too. Assess your home and outdoors; remove the possible dangers.
Cover electric sockets



You should better keep your baby away from electrical appliances, switches and sockets. If there are sockets around the baby's crib, use socket covers to cover them.
Keep sharp things out of baby's reach



When you have a newborn at home, better keep pens, scissors, staplers, paper clips and other sharp instruments in locked drawers. Don't forget to keep a knife back in the kitchen after you've used it to chop vegetables or fruits.
When travelling

If you have to travel with your baby, you need to make special arrangements to keep the baby safe. Make sure that the baby sits comfortably and there is enough support for his/her head and back. If you halt and the baby is asleep, don't leave them in the car alone. If you are alone, carry your baby with you.
Prevent food allergies



Babies are vulnerable to food allergies. They are more likely to develop allergy when you start a solid food diet for them. Parents must introduce one food at a time to avoid allergic reactions. This will also help the parents to identify whether the baby suffers from any food allergies.
Keep pets away



Pets don't usually harm small children, but there is a need to be aware of the potential dangers to the baby. You need to keep your child away from pets, especially once they start moving and walking.
Keep away toxic items



Medicines, cleaning products, toiletries, mothballs and other potentially toxic items should be kept away from children's reach. Move all the hazardous items out of reach.
Bathroom safety



Don't leave your baby alone in the bathtub as there is a risk of drowning. Place them away from bathroom as there may be cleaning solutions or liquids that they can drink.
There are several books, magazines, gadgets and professional childproofing consultancy services available nowadays. You don't need to load all that in your head, but keep a few things in mind. There is no substitute for your supervision. Never leave your baby alone, unless he's sleeping safely and is comfortable in his/her crib. Last, learn the basic of baby first aid and write down emergency numbers in your telephone dairy so that you can call someone in case of any accidents.
Read more articles on Newborn Care.