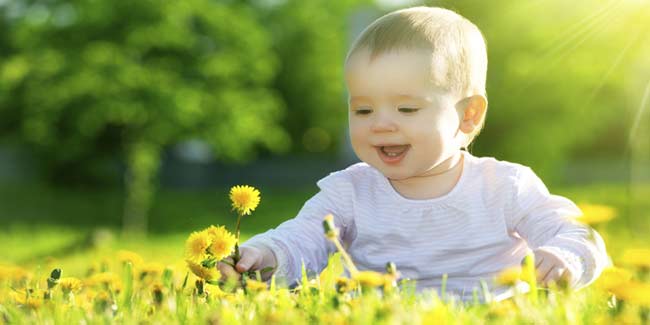 Vitamin D is very important for an infant's health and for proper development. Vitamin D deficiency may harm the bone strength in babies.
Health experts encourage the practise of feeding your baby with breast milk because it touts of many health benefits. But there is one nutrient which breast milk falls short of- vitamin D.


Whether you choose to breastfeed or formula feed your baby you should give your baby 5 micrograms (5µg) of vitamin D3 every day. Vitamin D is important for babies because it helps their bodies use calcium to build and maintain strong bones and teeth.

We get the "sunlight vitamin" from the sun. When sunlight hits our skin, the ultra-violet B (UVB) sun rays are used to make vitamin D. However, it is not possible for babies to safely get the vitamin D they need from the sun.

Importance of Vitamin D for babies
Vitamin D is very important for an infant's health and for proper development:
Maintains the calcium and potassium levels in the blood required by the baby to build strong bones and teeth.
Essential for body mineral balance and blood clotting.
Contributes to the heart and nervous system.
Maintains insulin levels.
Recommendations about Vitamin D for babies
The Ministry of Health recommends a vitamin dose of 400 international units a day for all babies across the board, including breastfed and formula fed babies and premature infants.

This daily dose is the agreed dose recommended by International Health Authorities. It does not cause excessive dosage and does not put the baby at risk of poisoning, even if the baby is fed formula containing vitamin D or exposed to sunlight.

Although the vitamin is found in a variety of sources, infants and toddlers are almost never exposed to those sources:

Foods: Even after the baby starts eating solids, his diet does not include fatty fish which is rich in the vitamin. Infants consume more foods like dairy products or egg yolks which although contain vitamin D it is only in small quantities.

Sun Exposure: The production of vitamin D in the body takes place during exposure to UV rays of sunlight (UVB). Only exposure to the strong afternoon sun on a clear day with no sunscreen or long clothing will help create vitamin D. Babies over the age of 6 months can be exposed to the sun in a controlled manner and for short periods, but this exposure is not enough to fill the reservoirs of vitamin D in the baby's body.

Breast milk and formula: Contains only small amounts of vitamin D.

Effects of Vitamin D Deficiency in Babies
A mild lack of vitamin D may not cause symptoms but can cause tiredness and general aches and pains. A more severe lack can cause serious problems such as rickets in children.

Symptoms of Vitamin D Deficiency in Babies
Babies with severe vitamin D deficiency can experience muscle spasms (cramps), seizures and breathing difficulties. These problems are related to consequent low levels of calcium.
Children with severe deficiency may have soft skull or leg bones- Their legs may look curved (bow-legged). They may also complain of bone pains, often in the legs, and muscle pains or muscle weakness. This condition is known as rickets.
Poor growth- Height is usually affected more than weight. Affected children might be reluctant to start walking.
Tooth delay- Children with vitamin D deficiency may be late teething as the development of the milk teeth has been affected.
Irritability in children can be due to vitamin D deficiency.
Children with vitamin D deficiency are more prone to infections. Respiratory (breathing) symptoms can occur in severe cases. Breathing can be affected because of weak chest muscles and a soft ribcage.
When rickets is very severe, it can cause low levels of calcium in the blood. This can lead to muscle spasms (cramps), seizures and breathing difficulties. These need urgent hospital treatment.
Rarely, an extremely low vitamin D level can cause weakness of the heart muscle (cardiomyopathy).

When giving your baby liquid vitamin D, make sure you don't exceed the recommended amount. Carefully read the instructions that come with the supplement and use only the dropper that's provided. Chewable and gummy vitamins that contain vitamin D are available for older children.
Read more articles on Newborn Care.