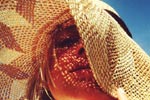 Vitamin D deficiency is a cause for many health problems in women despite of the abundance of sunlight in India.
Sunlight has been missing from the lives of a lot of young women, making their vitamin D levels extremely low. Inadequate amount of vitamin D in the body can cause some major health issues in women.
One of the biggest reasons why vitamin D is important for the body is because it is an important regulator of calcium metabolism and is therefore, an important determinant of bone health. Deficiency of vitamin D in young girls can bring about osteoporosis almost immediately and thereby, increase the risk of fractures by several times.

Osteoporosis refers to a skeletal disorder characterised by low bone mass and deterioration of the bone's architecture, causing increased bone fragility as well as susceptibility to fractures. According to an estimate, about 20 percent of women and 10 percent of men are likely to suffer from osteoporosis by the year 2015.
Several researches have shown that having enough amount of vitamin D is linked to lower risks of serious pregnancy complications such as pre-eclampsia, reduced incidence of breast cancer and decreased chances of caesarean.

Some other diseases such as rheumatoid arthritis as well as multiple sclerosis are lower in women with normal levels of vitamin D. Palash Gupta, Senior Consultant, Orthopaedics, Max Super Speciality Hospital Shalimar Bagh said that sunlight is abundantly present in India despite of which vitamin D is widespread. He added that one can get the needed amount of vitamin D if he/she judiciously exposes the arms and legs or hands to sunlight for not more than 5 to 15 minutes, 2-3 times in a week during spring and summer.
Read more Health News.