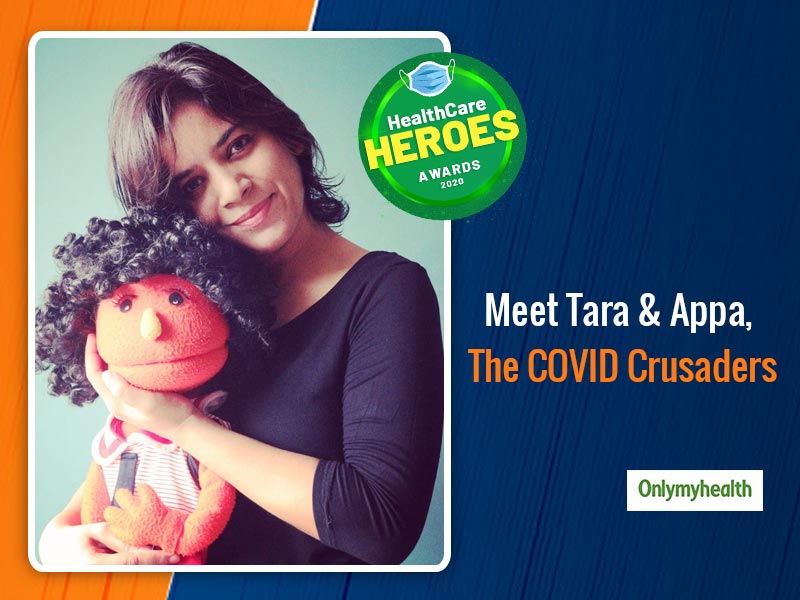 Category : Awareness Warriors

Vote Now
Who : Tara & Appa
What : Puppet characters spreading awareness about COVID-19
Why : Unique engagement across age groups for COVID-19 awareness
One of the most challenging parts of tackling COVID-19 is handling the misconceptions and misinformation circulating on social media and messaging platforms. Remember that rumour- drinking cow urine would kill coronavirus inside the body? A lot of uninformed people even fall for this rumour and landed up in hospitals for stomach infections. There are many more hoaxes that a lot of people believed to be true. But thanks to some awareness warriors who helped in busting these myths and informing people about the facts. Let us come together and acknowledge people who went out-of-the-box to spread awareness and been recognised as awareness warriors. Onlymyhealth is organizing a virtual event 'Healthcare Heroes Awards' to bring forth such inspiring stories of hidden COVID-19 warriors.
Tara The Puppet Corona Warrior is an innovative idea of informing people about the right things and making them aware of the misinformation that they are receiving from the Internet and other unverified sources. The story of 'Tara The Puppet' is a nominee under the category of awareness warriors. You must read this interesting piece and decide your vote.
UNICEF, Uttar Pradesh Govt. and 'The Puppetarians' come together to make children aware and better prepare against coronavirus. 'Tara Hai Taiyar' is a unique puppet series that reached out to thousands of children, parents & teachers in India, to make them aware and prepare them for lockdown. A UNICEF Uttar Pradesh initiative, created at home by Puppetarians. The episodes were aired on Doordarshan and All India Radio.
In the series, Tara shares in child-friendly terms what she knows about Coronavirus, the COVID-19 pandemic and how she's keeping herself safe from it at home. She also shares her handwashing song and the need for social distancing. The health department's campaign 'Tara Hai Taiyar' also became quite popular on social media. These videos were prepared by UNICEF's Communication Development team. It's extremely important that we make children aware of this global condition, in a way that doesn't scare them but prepares them to stay safe. Children must be assured that they and their family are fine and they are going to remain so if they take good care.
UNICEF's Communication Development produces video
Tara The Puppet is a unique but effective way of teaching children all about the coronavirus situation in a kid-friendly manner. If you think that Tara should win the award, vote for her. Here is how you can cast your vote for Tara The Puppet.
Read more articles on Children's Health