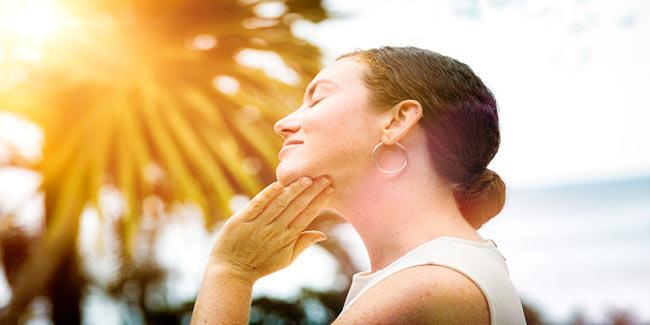 Exposure to sun is one of the major causes of premature skin ageing, sun spots and skin cancer. When exposed to the sun, everyone's skin experiences some degree of damage. Sun damage not only affects the skin but also alters the actual DNA of the skin's cells to cause lines, wrinkles, discolouration and even cancer.
It is not too late if you've already accumulated a fair bit of damage by sun exposure. Surprisingly, you can do a few things to reverse the effect by protecting yourself from the sun.
Re-hydrate the skin
It is imperative for skin to have moisture for cell repair and renewal. A good water-based moisturizer is an excellent way to re-hydrate your skin. Applying moisturizer to your skin on a daily basis will prevent the development of wrinkles and fine lines besides keeping skin fresh. Aloe vera can be a natural approach to re-hydrating the skin and healing it.
Exfoliate your skin

If the skin has incurred sun damage, exfoliate it with a loofah and scrub every night for every 2-3 days. The build-up of dead skin makes the skin look uneven and blotchy. One of the best ways to get smooth skin by creating brightness and lustre is exfoliation.
Eat more antioxidants

As there's no way to avoid sunlight exposure, you can turn to foods that heal the skin from inside. Eating antioxidants helps to protect skin from sun damage besides repairing and rejuvenating it. The amount of antioxidants in your blood decrease when your skin is exposed to sunlight. Therefore, ensure that there is a consistent supply of antioxidants in the skin. Cherries, pomegranates, green tea and fatty fish are some of the best sources of antioxidants.
Ensure there is no further damage

Next time you step out, make sure you wear a sunscreen and cover yourself with a hat and long sleeves.
If your sun damage is severe, see a dermatologist. He/she will advise topical remedies besides screening you for skin conditions. Report all the skin changes to your doctor.
(Images:Getty)
Read more articles on Sun-damaged Skin.