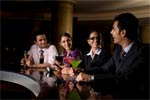 According to a study published in the journal Human Reproduction, lean, healthy men who consume more sugary drinks may have a low sperm quality and motility.
Who doesn't like a sugary drink every now and then? Men like them as much as women. And these sweetened beverages not just give men a bigger waistline and heart diseases, but they can also lower their semen quality. Scared already? You have more reasons to be afraid if you are a healthy, and lean man.


The study published on the journal Human Reproduction found that healthy, lean men who consume high quantity of sugary drinks are at risk of low sperm motility, or sperm movement. But, there is no relationship between this consumption and sperm mortality in obese men.

The semen of 189 men, aged between 18 and 22 was analysed during the study. The participants belonged to Rochester, New York. Each participant had to go under a physical exam, answer questions about his health habits and diet, and provide a semen sample.

The frequency of consumption of sugar-sweetened drinks over the past year, from zero to sex drinks per day were self-reported by the participants. This list of sugary drinks included not just soda, said study author Jorge Chavarro, professor of nutrition and epidemiology at Harvard. According to this, sports drinks alone accounted for about 40 percent of the sugar-sweetened drinks that the participants agreed to have consumed.

'Live Science' reported that the top 25 per cent of study participants who drank the most sugary drinks consumed an average of 2.7 sugar-sweetened beverages per day.
This amount of sugary drinks didn't seem to affect sperm concentration, shape, or ejaculation volume, but only sperm mobility, the study found.

The research discovered that lean men had 6.3 percent lower sperm motility in the high-intake category than their counterparts who consumed less than one sugary drink per day, on average.

Higher sugary drink intake was also associated with lower levels of a reproductive hormone called the follicle stimulating hormone, or FSH.
This hormone helps control sperm production, and the men in the study, both lean and obese, who consumed the most sugary drinks had slightly lower FSH levels.
Other Lifestyle Causes of Infertility in Men
The following list highlights some lifestyle choices that negatively impact male fertility:
• Smoking--significantly decreases both sperm count and sperm cell motility.
• Prolonged use of marijuana and other recreational drugs.
• Chronic alcohol abuse.
• Anabolic steroid use--causes testicular shrinkage and infertility.
• Overly intense exercise--produces high levels of adrenal steroid hormones which cause a testosterone deficiency resulting in infertility.
• Inadequate vitamin C and Zinc in the diet.
• Tight underwear--increases scrotal temperature which results in decreased sperm production.
• Exposure to environmental hazards and toxins such as pesticides, lead, paint, radiation, radioactive substances, mercury, benzene, boron, and heavy metals
• Malnutrition and anaemia.
• Excessive stress!

Modifying these behaviours can improve a man's fertility and should be considered when a couple is trying to achieve pregnancy.

Source: Deccan Herald
Image Source: Getty

Read more Health News.