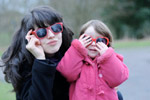 A new study suggests that having children could be contagious to female high school friends. Take a look at what the study had to say.
As we know that friends and peers get influence one another on adopting and shunning behaviours such as smoking, drinking or exercising. Now there is a new addition to this, and that is having children.

A new research suggests that having children is contagious among female high school friends during their early adulthood. In the study, Nicoletta Balbo a post doctoral fellow at the Bocconi University in Italy along with co-author Nicola Barban from the University of Groningen in Netherlands, focused on over 1, 700 American women who were tracked from when they were at least 15 year old till they reached the age of 30.

Nicoletta Balbo said, "The study shows the contagion is particularly strong within a short window of time: it increases immediately after a high school friend gives birth, reaches a peak about two years later, and then decreases, becoming negligible in the long-run."
The research took a look at the impact of female high school friends on the birth of first children.

Study co-author Nicola Barban said, "Being surrounded by friends who are new parents makes people feel pressure to have kids as well. By observing their friends, people learn how to fulfill this new role."

The study pointed out that having children at the same time as friends may bring about disadvantages. The child bearing experience that friends share happens to reduce the stresses which are associated with pregnancy and child bearing.

The authors mentioned in the study which appeared in the American Sociological Review journal, "It's also easier for people to remain friends when they are experiencing parenthood at the same time. We believe our study is the first to show this type of connection among friends."

Image Courtesy: gettyimages.in

Read more on Health News.