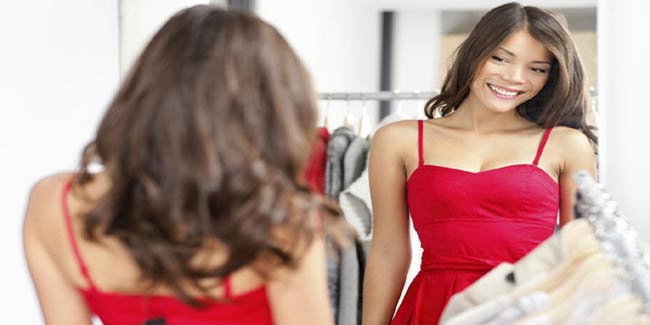 Aah! All those a-little-less-diligent-times leave us gaping for a ticket to the weight-loss kingdom even after following a healthy diet and a dedicated fitness routine.

But, a few clever tricks can make us look as if we have been eating clean and hitting the gym more than often. What do you need to do? Well, just choose your clothes wisely. Fashion is all powerful and can give us the illusion of a slimmer physique.
Define Your Size
Recognise the problem areas- whether it is your midsection or your thighs or the buttocks. Wearing oversized clothes in not the answer. They make you look like bigger than you are. To look leaner, it's crucial that every item in your closet fits you properly. It's not about following trends or hiding your flaws. It's about knowing what your flaws are and complementing them to create balance.


Say Yes to High Waistline
Just because Jessica Simpson got it wrong, doesn't mean you also will. If worn correctly, high-waist bottoms can trick the eye into thinking you're leaner by elongating your lower body. The most slimming item to choose are high-waist/slim-fitting jeans in dark denim or black with a bit of added spandex for stretch and movement.
Add Height with Heels
Heels create good posture and go a long way toward helping you appear slimmer. If you're not used to height, begin with a small wedge or chunky heel to elevate yourself slowly. Shoes that have a low-cut vamp (piece of leather forming the front part of the upper of a shoe) instantly elongate and slenderize your leg when you're wearing skirts, shorts and dresses.


Add Length to Your Neck
Stock up on v-neck tops, V-necks and other vertical necklines draw the eye up and down, elongating and narrowing your torso. Pair them with a lighter camisole; you're still creating elongation without showing inappropriate cleavage. Avoid horizontal necklines, like crew necks and boat necks, since these may make your shoulders and bust look wider.
Wear Knee-length Skirts
In terms of skirts, a knee-length pencil skirt is the most universally flattering silhouette, as are fitted A-line skirts that hit right above the knee. Choose dark colours for trousers (black and navy are your best bet) without any pleating and have a slightly tapered leg. Opt for straight jeans in a dark wash that hit exactly at your ankle or an inch or two below. This will elongate your body, especially when paired with dark heels, ankle boots or flats.


Avoid Light Fabrics
Light and cheap materials create a lot of static and cling to your body. If they're too light they will stick to your problem areas and make everything visible. SO, opt for heavier fabrics like cotton or tweed. Such materials also create a tailored and polished look.
Invest in Shapewear
Nothing can pack on the pounds more than saggy boobs in an ill-fitting bra. The benefit of shapewear is that it holds everything in and gives you a streamlined shape. By wearing a bra that fits well and undergarments that work to tighten and flatten, you can make tops, bottoms and dresses look better by creating a smoother, more flattering, figure.

Whether your body is pear, ruler, hourglass, or apple-shaped, we have the perfect clothing guide to fit your body type. Try these to feel sexier, warm, and weather-ready in no time.
Read more articles on Fashion and Style.