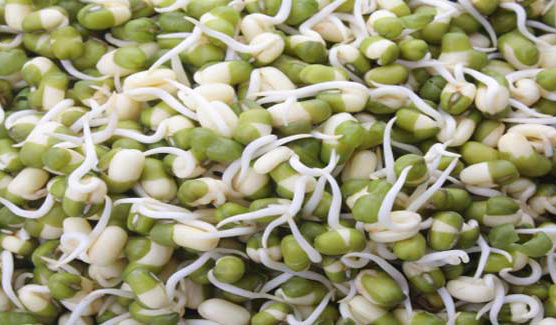 If increasing weight is your concern, it's time to consider adding sprouts to your diet. Sprouted moong dal salad will help you take control of your weight.
If you want to lose weight the easy way, i.e. without doing a lot of exercise, what you have to focus on is eating right. Eating sprouted grains has always been a popular nutritional choice for millions of diet conscious people around the globe. Sprouting is a process of germinating seeds which can be consumed either cooked or raw.
As you know losing weight is largely a matter of eating fewer calories than you expend, there is nothing better than the sprouted moong dal salad (mung bean salad). The high-fibre, nutrient-dense salad is a source of healthy calories and is easy to prepare.
Sprouted Moong Dal Salad



Besides being healthful and tasty, moong dal sprouts can be a quick and effective route to weight loss. You need a small bowl of sprouted moong dal, two chopped tomatoes, two chopped cucumbers, a small bowl of grated carrot, a sliced orange and a couple of green chillies. For dressings, you can use half a teaspoonful of black pepper, salt as you would like and lemon juice.
Preparation



Combine all the salad dressing ingredients together.
Take moong dal sprouts in a bowl.
Add tomatoes, cucumber, oranges, cilantro and green chillies to the bowl.
Mix them all well and add the dressings.
Plain Moong Sprout Salad



You need one cupful of sprouted moong dal, a tablespoonful each of finely chopped ginger and chilly and cooking oil. For the seasoning, you can use mustard and cumin seeds.
Preparation
Heat a tablespoonful of cooking oil in a pan. Add mustard and cumin seeds to it. When they sizzle, add ginger and finely chopped green chillies. Saute for five seconds before pouring it over the sprouted moong dal and other salad ingredients. Add lemon juice and salt for taste and mix it all well.
Other Reasons to Eat Sprout Moong Dal Salad



Besides contributing to weight loss by providing much more complex carbohydrates than standard refined grains, sprouted grams are an excellent source of vitamin K, C, fibre, and other essential minerals. Sprouts are also known to have therapeutic benefits, and therefore, eating them keeps us away from many health conditions.

A limited portion of sprouts in your regular diet can help regulate blood pressure levels as these are free from sodium which causes BP to spike. Furthermore, sprouts can help reduce blood cholesterol levels, regulates blood sugar levels, improves digestive health, detoxifies blood and helps you to keep your skin healthy.
With so many health benefits, it's time to consider adding sprouts to your diet. These not only let you take control of your increasing weight, but also good for better health and wellness.
Image source: Getty