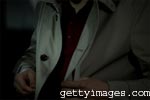 A new type of smart coat reveals itself as the future of clothing with not just the facitility to charge but also Wi-Fi connectivity. Unbelievable, isn't it?
If you thought that only your phones could be smart then think again! Now a new trench coat is a 'smart trench coat'. This smart trench coat helps to charge cell phones and provide weather information. The coat is being developed in the United States.
The world's first smart trench coat that has been dubbed as M comes with a smart phone app which monitors the weather and is good at advising you when you can wear the garment. The amazing part is that if you want to charge your phone you will just have to place your phone is the breast pocket and connect it to the charging dock. Motiif, the New York based company to be developing this coat has claimed that though it may sound bizarre to have a charging dock in your pocket it will be fairly invisible.

Motiif founder Rafael Balbi also said that the coat that is currently being developed will be ready by February 2014. He thinks that this could be the first step to completing a smart wardrobe of the future.

Balbi also said that the coat is just not a coat but one with charging as well as Wi-Fi that is about the future of clothing and how clothing will communicate with the user. Even though the price of the coat has not been announced as yet, Balbi states that it should not cost more than what an average trench coat costs.
Read more Health News.