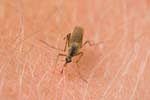 According to public health officials, in the state of Tamil Nadu coastal areas and river banks are more susceptible to malaria.
After observing the World Malaria Day last week, the public health officials in the state of Tamil Nadu are now worried due to the arrival of visitors from north-eastern regions and states like Odisha where malaria is prevalent.

Although Tamil Nadu has seen a significant drop in the cases of malaria since 2010 but it is still a long way to go before the disease is completely eliminated from the list of public health problems.

Several regions in Tamil Nadu especially coastal areas and river banks are more susceptible to the disease. Coastal areas like Rameswara and Tuticorin, Chennai, Salem, Edappadi, Dindigul, Erode, and Tiruchi and river banks like Tiruvannamalai, Cheyyar, Kallakurichi, and Dharmapuri are amongst the highly vulnerable zones as female Anopheles, the mosquito which causes malaria, breeds in some of the areas.

The state president of the India Public Health Association, S. Elango wants a surveillance system to be setup to monitor cases of malaria in the state. He said "when a person complains of fever, the blood samples must be examined. The patient must be educated against self-medication. The pharmacist should refer him to the nearest hospital instead of prescribing medicines''.

But the matter of concern for the Public Health Department officials is the malaria which stays unaffected even after use of drugs and insecticide. The resistance is caused majorly due to improper diagnosis and treatment and lack of vector control.

Director of Public Health K. Kolandaisamy said "in urban areas such as Chennai, problems include not being able to access overhead tanks and carrying out mosquito control programme inside homes. One of the major concerns is when a patient is diagnosed as having plasmodium falciparum that could lead to cerebral malaria. Our training of lab technicians from areas where there is no malaria includes giving them slides that are positive and negative for malaria so that they don't miss diagnosis. It will be a couple of years before we can say malaria is not a public health problem".

In order to have a directed path to fight malaria, Dr. Elango wants the Mumbai-model of integrated vector management. He says, "when a blue print for a house/building is submitted for approval, the vector control officer should also be given a copy. This is being done in Mumbai, and we should follow suit".

Several other measures to combat the disease include making it mandatory to provide notification of the disease by private hospitals or clinics and boosting up non-governmental oragnisations to work towards controlling the disease. Also, funds from the government for research work should be allocated.
Image source: Getty Images
News source: The Hindu
Read more on Health News.