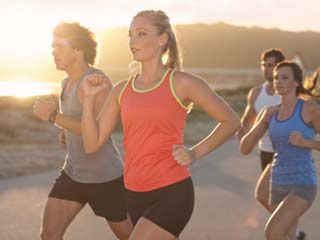 Contradicting previous research, a new study has found that running on a regular basis does not raise the risk of developing osteoarthritis of the knee. It may however, help protect against the condition.
Some previous studies had suggested that running regularly may contribute to your risk of developing osteoarthritis of the knee. But contradicting them, a new study proposes that running regularly does not raise the risk of osteoarthritis of the knee, in fact it may help protect against the condition.


Osteoarthritis is a condition in which the natural cushioning between joints -- cartilage -- wears away. When this happens, the bones of the joints rub more closely against one another and result in pain, swelling, stiffness, decreased ability to move and, sometimes, the formation of bone spurs. Osteoarthritis is the most common type of arthritis. While it can occur even in young people, the chance of developing osteoarthritis rises after age 45.

The research team co-led by Dr. Grace Hsiao-Wei Lo of Baylor College of Medicine in Houston, TX, noted that previous studies blaming running for causing osteoarthritis were conducted in professional males runners, and so may not apply to general public. Also, the runners had lower body mass index (BMI), which is linked with lower risk of knee osteoarthritis.

For their own study, Dr. Hsiao-Wei Lo and her colleagues analyzed 2,683 participants with a mean age of 64.5 years who were part of an observational study called the Osteoarthritis Initiative. Of the participants, 56% were female and the average BMI was 28.6.

At study baseline, participants were assessed for symptoms of osteoarthritis and underwent knee X-rays. Knee X-rays were taken again 2 years later and were assessed for signs of radiographic knee osteoarthritis (ROA). In addition, participants were assessed for knee pain. If they had regular pain in one knee as well as ROA, they were classed as having symptomatic osteoarthritis (SOA).

Results of the analysis revealed that participants who engaged in regular running - regardless of the age at which they ran - were less likely to experience frequent knee pain, ROA and SOA, compared with participants who did not run regularly.
Of participants who ran at any point in their lives, 22.8% experienced SOA, compared with 29.8% of non-runners.

The researchers found that individuals with a lower BMI were more likely to engage in regular running.

These results, the team says, suggest that regular running does not raise the risk of knee osteoarthritis among the general population; it may actually protect against the disease.

The study was presented at the American College of Rheumatology Annual Meeting in Boston, MA.

Image: Getty

Read more Health News.