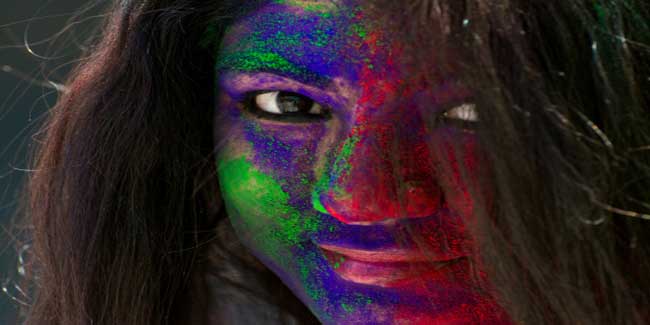 Everyone is eagerly awaiting the holi celebration. Going wild has become the essence of Holi, and most of us enjoy this festival to throw away the restraint out of the window. Amid the celebrations, we need certain precautions for our well-being.
Gone are the days when only flowers and vegetables were used for making colours and the synthetic chemical colours are widely used. The eyes are most vulnerable to being damaged as they are most openly placed among the vital organs of the body. Not taking care of your eyes when playing with colours during Holi can result in eye irritation or allergies, possible temporary blindness and skin infection.

Here's is what you need to do to protect your eyes from holi colours.
Cover your eyes



Always cover your eyes whenever there is a chance of colour coming in contact with them. Sunglasses are useful for this.
Keep eyes shut



Try to dissuade people from applying colour all over your face with their hands. If you fail to do so, be especially careful in keeping your eyes and lips tightly shut. Always request the person not to smear the colours near the eyes.
When travelling by car



If you are travelling by car, keep the windows closed. The menace of water balloons can be tackled in this way. Water balloons can be most damaging for your eyes as they can rupture the eyeball or even lead to retinal detachment.
Apply cream around your eyes



Apply cold cream around your eyes and make a thick coating of it over there. This would ensure that the colours can be easily removed when you wash your eyes. When washing for removing the colours around your eyes, keep the eyes tightly shut and use warm water.
For contact lens wearers



If the eye is exposed to aniline dyes during Holi, it causes great irritation to the eye. The exposure to the dye is increases for those who wear contact lenses. They should immediately discard the contact lens.
Make your own colours



It can be understood why it is important that everyone returns to natural colours during Holi. With such risks to health including eyes the festivities are far from what they are meant to be. One can easily substitute the harmful chemicals with besan, palash leaves, beetroot soaked in water, henna powder, gulmohar, hibiscus flowers and many others for making all types of colours. Herbal gulal is also available in the market these days.
You should be particularly wary of the granular particles of the chemical colours. These are toxic and can cause corneal abrasion. This eye problem causes severe pain and needs to be treated by an expert for preventing the development of ulcer or infection.
Read more articles on Festival Fever.