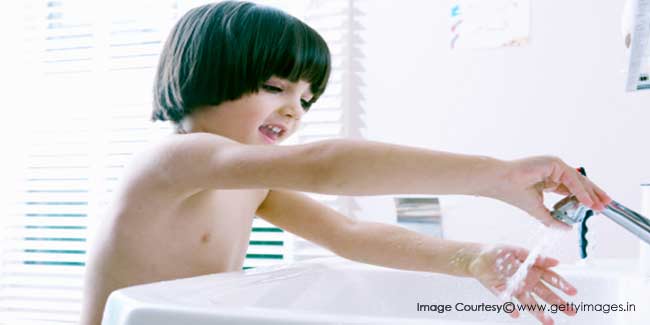 Children can act stubborn about not washing hands. But as parents it is our responsibility to get them adapt to the habit. Learn here how to do it.
Children are very notorious and they can literally give a deaf ear to their parents when asked to wash hands. No, it's not because of the weather or their moods; it is because they are kids and that's how kids are supposed to be – stubborn.



Why is pre-school hand hygiene important?

According to studies performed by the Centers for Disease Control and Prevention, the number of infections and illnesses in children reduces by at least 50 per cent if they washed hands frequently with soap and water. So, it might be a difficult task for you as a parent to make your child wash hands but not impossible. Understand the gravity of the situation and work promptly on it.

Why is spread of germs in children far quicker?

In a small child, the immune system is still not developed; therefore, dirty hands that are a site of pathogens and chemicals can lead to illnesses in children. Hence, a child with a runny nose can easily spread the germs to another child because of lack of hand hygiene awareness. So, teach them the importance of hand washing.

When should you ask your child to wash hands?

To keep your children from getting sick every second day, teach them the importance of washing hands as often as possible, especially –
after they've come back from outdoor activities
after using washrooms
after blowing nose
after and before eating and drinking
after handling garbage
after handling or touching pets and other animals
after they play with toys.

Why is hand hygiene essential at pre-school level?
At school, kids forget the presence of germs around them. Whether it is the playground, classroom tables and chairs, green board and chalk dust, they undermine the importance of maintaining proper hand hygiene.
As a parent make sure that your child gets adequate accessibility to use soap and water at school to evade any possibility of contracting any illness through cross-contamination of germs.
With the advent of winters, cold and flu and respiratory infections begin to take a toll, so keep emphasising upon the need to follow hand washing practice. You are an immediate idol for your child; as you sow, so shall you reap.

How to encourage your child to wash hands?
Explain them that germs spread through touch and most easily through hands.
Use positive reinforcement and reward them each time you see them washing hands when required.
If you think your child won't wash hands at school then give them anti-bacterial hand wipes.
At home keep hand-soap by the sink.
Tell your kids that germs are present everywhere even if they can't see.

How to become a role model for your child?
Go out and play with your kid.
Dirty your hands and your child's too.
Go back home straight to the washroom.
Wash your hands with soap and water for at least 40-60 seconds.
Dry your hands with a towel or paper towel.

Next time or may be the time after that, you will notice that your child is aping you. Isn't that a good deal?

So, for the health sake of your kid, teach them the dos and don'ts of hand washing in time.
Read more articles on Hand Care.