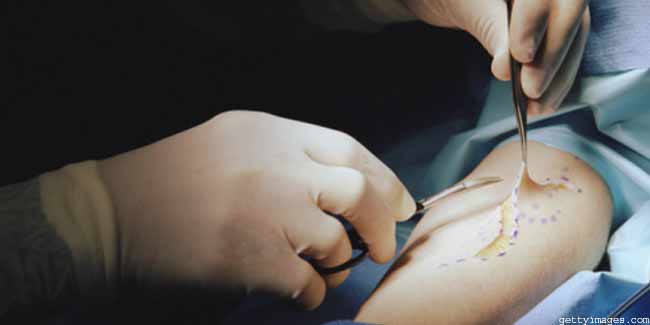 Arm lift brachioplasty is done to bring back the natural firmness and shape of your arm. In the process, extra fat and skin is removed from arms.
With age, like all other parts of the body, the arms also show signs of ageing. If your arms have lost their natural firmness and shape, brachioplasty can improve their look and shape.


Brachioplasty or upper arm lift is a procedure in which excess fat and skin is removed from the upper arm area. This is done to make a firmer, more youthful looking arm contour.

• Brachioplasty cannot be done if you have had mastectomy surgery as the risk of repeated armpit infections is increased.

• Avoid brachioplasty cosmetic surgery if you sweat excessively in the underarms as this also increases the risk of armpit infections.

Brachioplasty Procedure

Loose upper arm skin can occur with ageing or if you were obese and have lost weight significantly. In obese people, the skin stretches to accommodate excess fat. With weight loss, the skin does not tighten as elasticity is lost and tends to sags.

Brachioplasty can be done under local or general anaesthesia. Your doctor will mark the excess skin that has to be removed before administering anesthesia. The excess skin and soft tissue is then excised.

But, you have to bear in mind that scars after the surgery are prominent. So, think over if you want to exchange loose skin for scars. Liposuction can be considered if you have a lot of fat and the skin is tight. But, if the skin is loose, liposuction is not an option.

Recovery from Arm Lift Surgery

The surgery can be done as an outpatient or day care procedure and you may return home the same day. Follow your doctor's instructions regarding medications, eating and smoking before and after surgery to minimise the risk of complications.

Are you a Good Candidate for Arm Lift Surgery?

An arm lift surgery can be performed on different types of patients including those who are of a normal weight and require only slight tightening, though a majority of the patients who wish to go through arm lift surgery are massive weight loss patients who have stabilised their loss of weight and do not really have a critical medical problem. Most of the patients have an excessive skin fat in the upper arms. A lot of patients complain of their arms feeling and looking like the wings of a bat. Some women report to have a lot of extra skin which they would like to be lessened.

Preparing for the Surgery

If you smoke, it is advised that you stop smoking a few days before the surgery as smoking can affect the ability of a person to heal. Some medications that heighten ones risk of bleeding like non-steroidal anti-inflammatory medications, Aspirin, certain homeopathic regimes or vitamins must be discontinued before the surgery.


Read more articles on Hand Care.