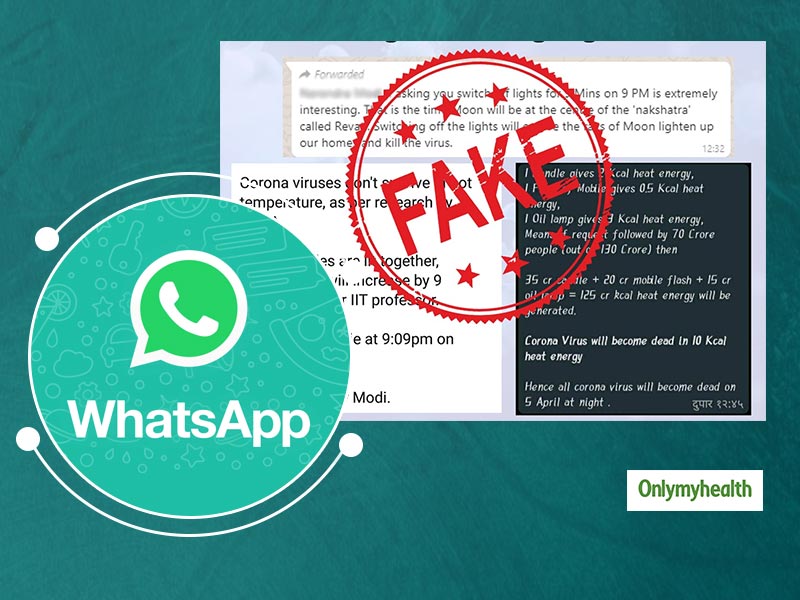 Prime Minister Narendra Modi released a video message on Friday, in which he urged the citizens to switched off all the lights of their house for 9 minutes on Sunday, April 5, at 9 o'clock. He signalled the darkness as the coronavirus pandemic across the country and hence to remove it, he has asked to light a lamp, candle or just use their phone's flashlight. With this, new fake news is now active on WhatsApp. Many people have been receiving messages on WhatsApp, in which it is being said that the light of candles will eradicate the coronavirus. Apart from this, there are some messages in which it is being claimed that the time of 9 minutes after 9 pm on April 5 is a very auspicious sign, due to which the Prime Minister has chosen this time.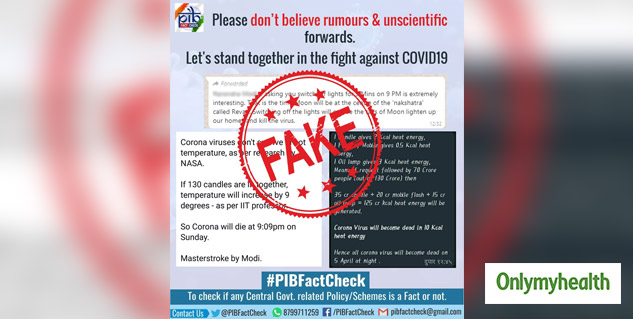 Rumours
The fact check team of PIB has declared it 'fake'. PIB has cautioned people by tweeting about this and said that they should avoid such rumours. This tweet from PIB Fact Check reads, "Don't believe these rumours and unscientific arguments involving an appeal to light a lamp/candle/flashlight at 9 pm on 5 April. This is to demonstrate our unity against COVID-19 and to boost the confidence against this fight. Please maintain social distancing and avoid the coronavirus."
Don't fall for the rumours/unscientific reasoning on the appeal for lightning Diya/candles/flash/torch on 5th April at 9pm.

This initiative is to show solidarity and confidence in our collective fight against #Covid19

Please maintain #SocialDistancing to keep #Covid19 at bay! pic.twitter.com/ZrR9PdhJjv

— PIB Fact Check (@PIBFactCheck) April 3, 2020
Also, Read AIIMS Doctors' Advice On Coronavirus Prevention: Stay Home Stay Safe
Destroying the corona
Earlier, Prime Minister Modi announced a nationwide Janata curfew on March 22 and called upon people to clap and encourage the doctors, medical staff and media persons of the country. Similar WhatsApp messages went viral (at that time) which said to kill the coronavirus by sound waves of claps and thalis.
Also Read: Fact Check: The Audio Making Rounds On Social Media By The Name Of Dr Trehan Is A Hoax
Social distancing the only way to prevent coronavirus
According to the World Health Organization, no vaccine, drug, prescription or remedy has yet been discovered for the coronavirus. The only way to prevent coronavirus is to avoid coming into contact with an infected person and wash hands thoroughly with soap for 20 seconds before touching the face. For this, a 21-day nationwide lockdown has been announced. The Prime Minister has also said many times in his speeches that the only way to defeat corona is, "stay at home, stay at home and stay at home". Many countries of the world have been successful in overcoming this virus through social distancing. So follow the instructions of the government and stay at home.
In the video message, the Prime Minister has also asked people to not leave their houses. Light a lamp and candle at your doorstep or in the balcony.
A video messsage to my fellow Indians. https://t.co/rcS97tTFrH

— Narendra Modi (@narendramodi) April 3, 2020
Read more articles on Health News