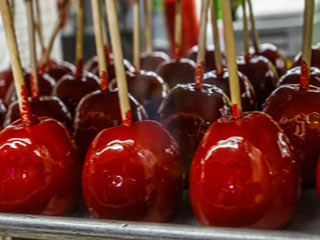 The sweet taste of caramel apples turned deadly when they reportedly linked to out breaking listeria in multiple states killing at least four people. The Centers for Disease Control and Prevention and Prevention has urged people to avoid caramel a
The Centers for Disease Control and Prevention has warned people not to eat packaged caramel-coated apples which are suspected for the outbreak of listeria in multiple states killing at least four people.


10 states that had been infected with this food-borne bacteria include Missouri, New Mexico, Arizona, Minnesota, Texas, Wisconsin, California, North Carolina, Utah and Washington state. 28 People from these states have been infected with food borne bacteria.

The CDC has reported that out of 28 people, 26 have been hospitalized with listeria food poisoning, five died and bacterium was a definite factor in four of the deaths. Nine of them were pregnant women as pregnant women are 1o times more likely to get listeriosis after eating infected food.

15 out of 18 patients who were interviewed about the illness said they had commercially produced, pre-packaged caramel apples before they become sick.

The common symptoms of the listeriosis infection include muscle aches, headaches, stiff neck, confusion, loss of balance, fever, and convulsions. The symptoms usually begin to appear after 3 to 70 days after the consumption of the tainted food. Listeria can also be found in soil, water, raw milk and food items made with raw milk and in animals such poultry and cattle.

Listeria not only causes miscarriages and meningitis but can also lead to death in about 20 percent of the people who become infected. According to the CDC, no illnesses in the current outbreak have been linked to the apples which are not caramel coated or prepackaged.

The CDC is urging people to not eat caramel apples including those with nuts, candy sprinkles, chocolate or other toppings. In the meantime, Investigators are trying to determine the brands which are involved in selling these infected pre-packaged caramel apples.
Image Courtesy: Getty
Read more on Health News