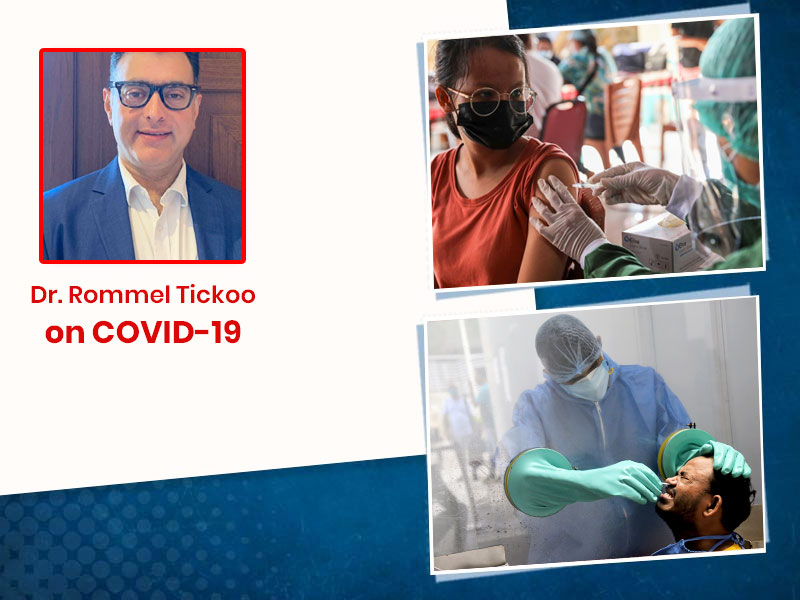 Coronavirus is daunting upon us and this condition remains the most fatal of all for past year. Despite the vaccination drive being run in full swing, this virus doesn't seem to be taking a backseat anytime soon. The cases have suddenly begun to rise steeply which is alarming. This world health day 2021, onlymyhealth invited Dr. Rommel Tickoo, Director, Internal Medicine, Max Super Speciality Hospital, Saket for a webinar where he shared some crucial information about the COVID-19 outbreak, vaccination and prevention. If you missed watching his live session, you can read the highlights here. Scroll down to read what this expert has to say and follow the guidelines to stay secure from coronavirus.
Mutant strain
This virus seems to be very infectious as cases are rising exponentially. Things are becoming worse and we need to take all the precautionary measures to be safe. Avoiding unnecessary visits outside especially public places can help you and your family stay protected. You may not know when and how you are carrying the virus with you to your house.
Dr. Rommel informs that this strain is infectious but thankfully, it is not causing harsh complications. However, if the virus mutates further, it may become fatal especially for people with comorbidities.
Talking about why the coronavirus outbreak is not subsiding is, Dr. Tickoo says that people are not following the basic norms which is the main reason of the cause of COVID-19 outbreak. A lot of travel is happening, transportation is in full swing and get-togethers are happening
Chances of Re-infection COVID-19 After Vaccination
"Vaccination is not protection"- Dr. Rommel Tickoo
Vaccines are not full-proof. One shot is not enough, you need to get vaccinated twice to be safe. Also, these vaccines act after two weeks which means you are at risk for this time. People with high-risk complications must get vaccinated. This can prevent chronic complications
Here are some things that you need to watch out for before getting the shot:
If you are diabetic, it shouldn't be uncontrolled
Blood Pressure should be in control
No Active infection
People with bleeding disorders, severe allergies, etc. should consult their doctor before taking the jab.
Fever, numbness, pain, headache, inflammation, etc. are very common after getting the vaccine. This is nothing to worry about as this is an indication that your body is developing immune response. These issues can remain for a couple of days and then subside gradually.
Upon asking about COVID-19 in children, Dr. Tickoo says that since vaccines are not approved for children, parents can only take measures to boost immunity of the child. Providing essential nutrition and supplementation can improve the condition of kids. Also, inflammatory syndrome, a rare but possible disease in kids can worsen the situation. If your kid has this syndrome, you must consult a doctor to track his/her health condition.
Other Sessions
You can join in other sessions as well. Here are the details:
Gynecologist Dr. Aruna Kalra on tackling sexual health problems at 5 pm. Click here to register.
Join fitness coach Vardhaman Swamy today at 7 pm to know bodybuilding, weight loss and body transformation tips. Click here to register.
Be prepared with answers to all your questions on mental health and mental problems for Ashish Bagrecha's session tonight at 8 pm. Click here to register.
Stay tuned today with onlymyhealth to be a part of interesting and informative sessions.
Read More in Latest News