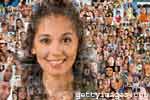 If you are thinking of getting pregnant via sperm donation. you can now bring together the DNA of two prospective parents to see if they will have healthy kids or not.
Imagine if you could bring together the DNA of two parents to see the possible diseases that their offspring is likely to suffer from, how few the medical problems would be. This imagination is rolling into reality in the US with the help of a service that allows sperm donors and those retrieving the benefits of the service to digitally weave the DNA of prospective parents together and check for potential disease in about a thousand virtual babies.



A New York based start-up called Genepeeks focuses on the sperm of the donor, helping the parents to simulate even before pregnancy to check how the genetic sequence of one female client is likely to combine with that of different males.

The service allows filtering donors that have a history of producing digital children with risk of inherited disorders, listing only the ones that have better genetic matches.

Co-founder of Genepeeks, Anne Morris, said that they are in the business to give prospective mothers, who use the service of sperm donors to conceive, a list of donors on the basis of their genetic profile.

This technology has several implications for other biological members of the family, especially because it could create information that the donor does not already have.



Read more Health News.