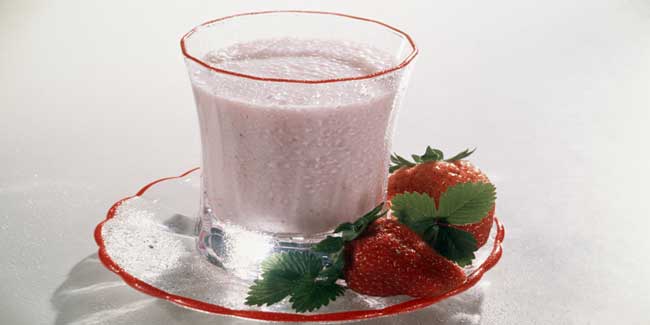 Natural protein shakes for weight gain are high-calorie drinks that boost calories and nutrient density to promote weight gain. Here is an outline of how protein shakes can help you gain weight.
Protein weight gain shakes have become a popular medium to add extra calories to your daily intake. If you are keen to gain healthy body weight and add extra muscle, protein shakes are one of the best options for you to achieve weight gain goals.


Protein is one of the essential macronutrients for weight gain, others being carbohydrates and fats. The weight gain protein shakes can either be prepared with protein powder or with natural sources of proteins. For a calorie boost, complement protein shakes with whole-food meals or fruits.
Strawberry oatmeal shake
Blend together a dozen of frozen strawberries, 1 cup soy milk, rolled oats, banana and 1 scoop of vanilla protein powder for preparing a strawberry oatmeal shake. Besides boosting weight gain efforts, strawberry oatmeal shakes fulfils body's requirement of vitamin C.
Nutty shake
Blend together raw walnuts, half cup low-fat yogurt, 1 cup raspberries, few banana slices, blanched almonds and a few dates to prepare a calorie-laden creamy protein shake for weight gain. Nutty shake is rich in omega-3 fatty acids, essential for brain development and protection against heart disease.
Avocado shake
Blend half avocado along with diced pineapple, coconut water, lime juice and soy protein powered for a natural weight gain protein shake. Besides being rich in proteins, avocado shakes are an excellent source of unsaturated fats, vitamin K and potassium.
Chocolate banana shake
A chocolate banana shake can be prepared by blending a frozen banana, soy milk, almond butter and cocoa powder along with chocolate protein powder. Encompassing heart-healthy fats, magnesium and vitamin E, chocolate banana shake has all in it for weight gain. But, chocolate syrup should be avoided if you're preparing a high-calorie smoothie-shake for weight gain, owing to excess fats and processed sugar.
Vegan protein shake
Blend together frozen pineapple, few papaya slices, hemp protein powder, banana and water to prepare a protein shake for weight gain. The weight gain shake is ideal for vegetarians who don't have options to include animal products in their diet chart for a healthy weight gain.
Drinking calories in the form of protein shakes increase overall intake and boost weight gain efforts by manifolds. Natural weight gain shakes can be prepared easily at home with natural ingredients such as fresh or frozen fruit, protein powder, nuts and milk. Healthy fat sources, which include pecans, olives and sesame seeds, can be added to protein shakes to increase caloric intake.

Besides boosting calories, weight gain protein shakes help improve nutrient density. If you're finding it difficult to incorporate protein shakes in your dietary regimen for weight gain, consult a nutritionist.
Read more artilces on Weight Gain.