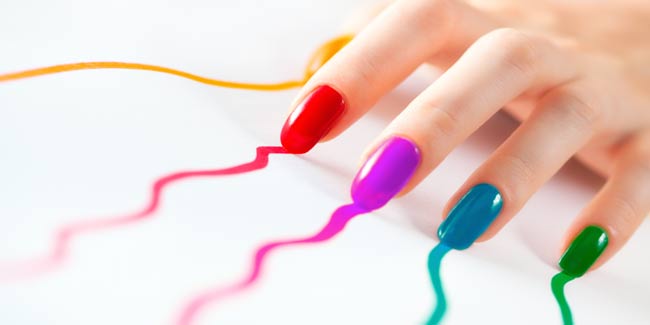 If you think that the colour you choose to paint your nails is merely a reflection of a colour you think is pretty then you should think again. You may generally put on any nail paint color of your choice, but did you know that your personality may be judged by the color of your nail polish?


It might sound vague, but the physiologists say that the nail polish colour you choose speaks a lot about your personality and character. It's pretty interesting, isn't it? Here's a run-down of what different nail colours say about the person.

Which colour says what?

Fire-engine red: You're sassy, self-assured and not afraid to be dramatic. Bright red is a bold, look-at-me colour, which is also a symbol for passion, fire and confidence. You love the spotlight and you take charge of situations.

Hot pink: You're fun loving and energetic. Pink is a colour that is associated specifically with women and hot pink lets you show your spunky and spicy nature.

Pale pink: Painting your nails pale pink is a subtle expression. You are quiet; don't want to stand out, but youthful. Pale pink is not significantly different from the colour of your nails (if you're Caucasian), but you still want to show your soft side to the world.

Black: Painting your nails black is a classic symbol of anti-establishment. It doesn't mean you are depressed, but it's a way of rebelling against the norm and showing some of the darkness in your personality.

Navy blue: This is a colour of sophistication and authority. Wearing this colour on your nails tells people to listen up because you're in charge.

Aqua (light) blue: You're showing the youthful and calm side of your personality when you paint your nails light blue. Aqua is a cool and a nonchalant colour.

Magenta: A combination of the red, pink, and purple; magenta is feminine but not flashy. You are vibrant and youthful, but you don't need to be the centre of attention at all times.

Orange: This colour is bright and vibrant, for people who want attention drawn to them. It also symbolises autumn and the changing seasons, a time of brightness and change.

Dark brown: A dark and rich colour, this shade of brown indicates boldness and authority.

Maroon: Maroon is a warm colour, a combination of red and purple, retaining the authority of red and the confidence of purple. It's a mature, sophisticated colour that, when worn on your nails, invites respect.

Coffee-colour: You are earthy and energetic. Tan and light brown are earth tones, cool colours that bring you closer to Mother Nature.

Green: This colour invokes images of vigour and the environment. Going 'green' in your nail polish exudes earthiness and spunk.

Deep purple: Purple is the colour of royalty. Wearing it on your nails shows you have a confident personality, and you're not afraid to stand out from the crowd.

Lavender: You are graceful and collected. A combination of pink and purple, lavender is feminine and confident without the youthfulness of pure pink.

Neon Green: The colour tells you are the talkative kind. Your love for nature, energy and spirituality are honestly depicted, if you paint your nails with this shade.

Golden: If you wear golden nail paint, you may relate yourself with Sonam Kapoor from "Aisha" who thinks everyone should look good. You are a fashion connoisseur.

Off white: Class and confidence are your personality traits. You are easy-going and don't need attention from others. Congratulations! You are happy with yourself.




Read more articles on Beauty and Personal Care.