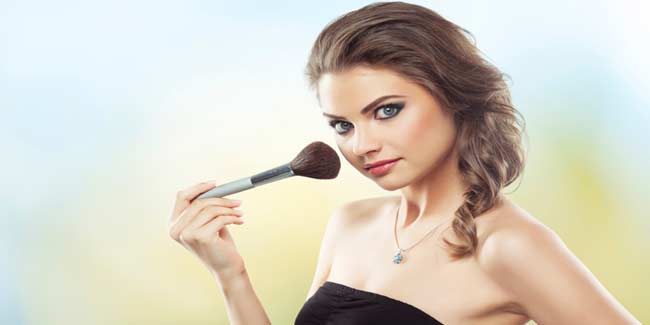 During monsoon, a slight error in make up can be a cause of embarrassment. Be careful and avoid these blunders which may spoil your party! Here are some common monsoon make-up blunders:
Applying heavy foundation on oily skin

Many think that foundation is a must during the hot and humid season, especially for oily skin. Actually, the foundation never seems to last and makes the face look streaky or blotchy. Foundation need not be applied, especially during the day. Compact powder may be used. Like foundation, it is available in different shades. It reduces the oily look and provides a smooth skin texture.
Applying moisturizer before foundation

It is true that a moisturizing lotion is said to be a base for foundation, but this does not apply during the monsoons and especially for normal to oily skin and combination skin. Due to sweat and oil, the skin looks dark. Many use foundation which is much lighter than normal skin colour, in order to look fair.
Actually, foundation should be as close to your normal skin colour as possible. This would help blend the foundation and make it look more natural. Otherwise, it can give a mask-like effect. Also, the neck and other parts of the body will look darker in comparison and make the face look odd. By using bronzer or blush on over the cheekbones, one can give the skin a glow.
Applying lots of powder, thinking that it helps to reduce oiliness in summer.
Powders do help to reduce oiliness in summer, but less should be applied. Dust off excess powder with cotton wool. Too much powder can make the face streaky or blotchy, due to perspiration.
Many think that light powder, like baby powder, is best for monsoon

Translucent powder is actually very pale and does not suit all skin tones. Tinted powders may be better. Warm yellow tones of powder may suit. Nowadays, the trend is for a matte (non-shiny) finish for skin texture. If you want a really healthy glow without the shine, go for a bronzing powder. Avoid applying too much. It should be lightly applied, using a big powder brush.
Applying foundation on the eyelids thinking that it helps the make-up last

The skin of the eyes is very thin and delicate. Wrinkles, lines and creases form easily. Foundation can make the eyelids look creased with tiny lines.
Many use only pastel (light) coloured lipstick during monsoon

A coral or dark pink lipstick may look very attractive during summer and monsoons, even with light coloured clothes.