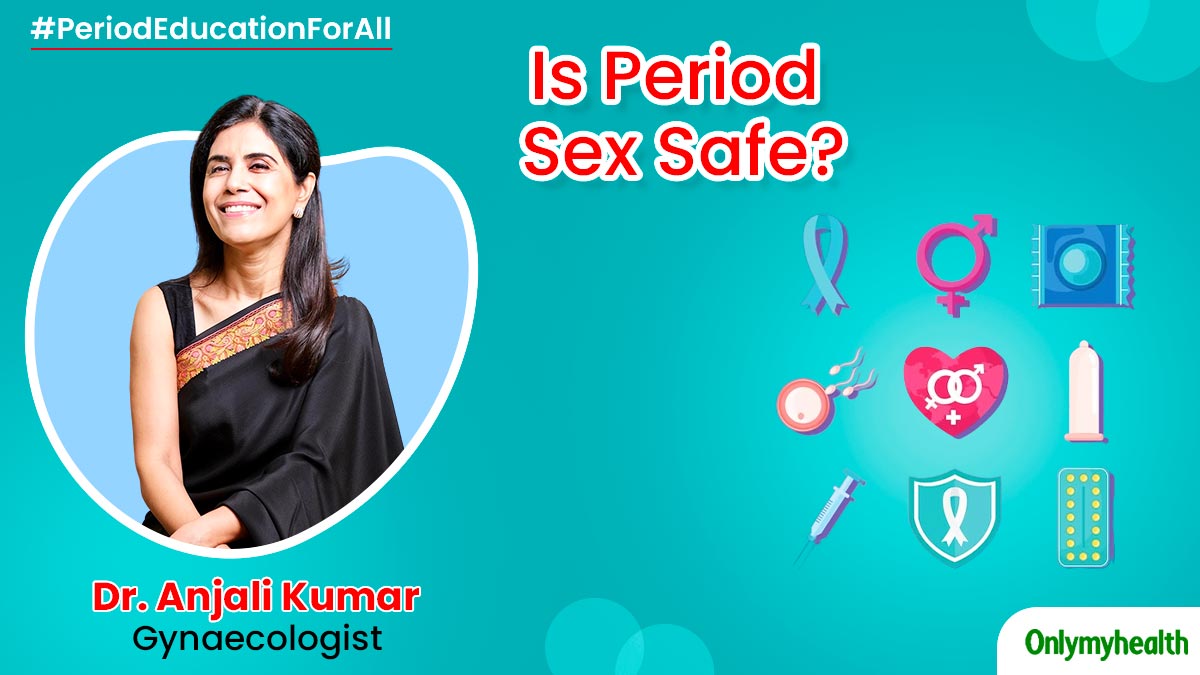 A lot of stigmas are attached with sex period sex specifically is surrounded by various myths and misconceptions. This is because of the lack of conversations and unawareness around it. Is period sex safe? Can it prevent pregnancy? Is it okay to have unprotected sex during menstruation? All of these questions often pop-up in our mind, but no one is ready to talk about them. We at Only My Health, spoke to Dr Anjali Kumar (Maitriwoman for Instagrammers), Director-Obstetrics and Gynaecology, CK Birla Hospital, Gurugram, to answer some of these questions.
Also Read: #PeriodEducationForAll: Gynaecologist Anjali Kumar On Why Period Talk Is Also Necessary For Men
What Is Period Sex And Is It Safe?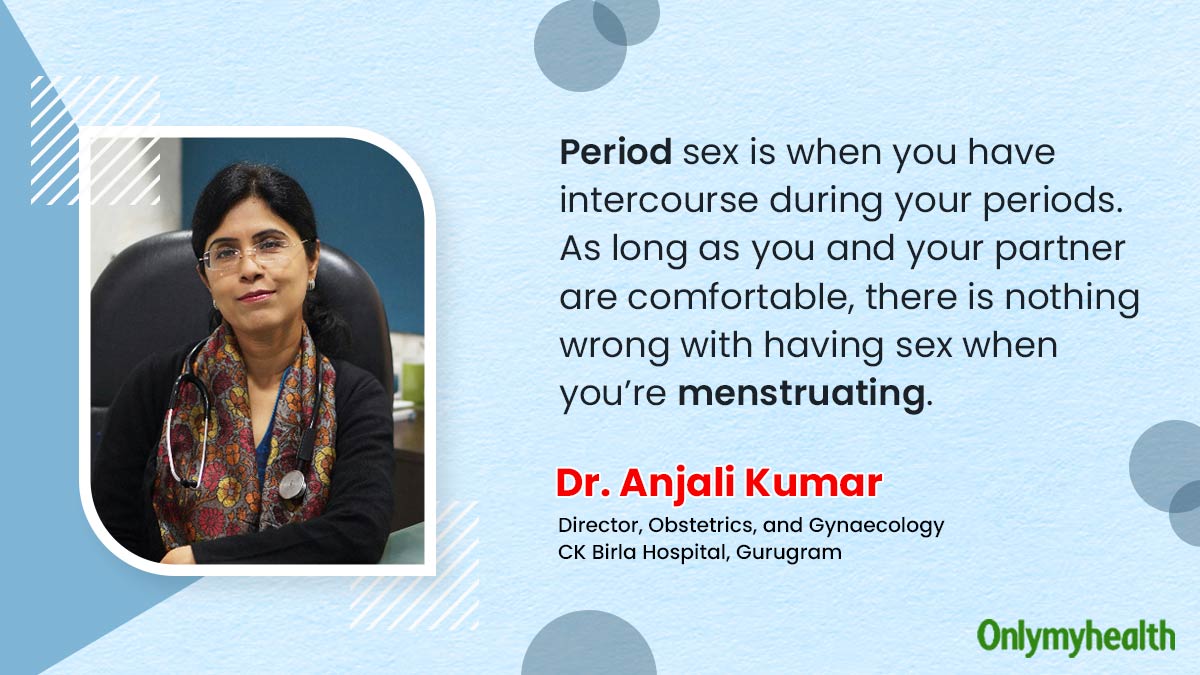 Period sex is when you have intercourse during your periods. Medically, there is nothing wrong with having sex when you're menstruating and as long as you and your partner are comfortable, and do not mind the mess, it is completely safe, said Dr Kumar.
Taking to her YouTube channel, the doctor even highlights some of the benefits of period sex. These include:
Relieves menstrual cramps
Relieves from the feeling of sadness, as the sexual activity releases oxytocin, also called the 'happy hormone'
Shorten period duration
Increased sex drive
Natural lubrication
However, the doctor urges people to use contraception during the menstrual sex as there is always a risk of infection transmission. The risk is higher during period sex, according to Dr Kumar. She explained, "Because the blood carries the virus and the bacteria, it becomes easier for the infection to spread. Furthermore, this is the time when the cervix is open allowing the easy transmission of the infection. Thirdly, during periods, the vaginal pH becomes alkaline, making one more prone to infections."
Also Read: PeriodEducationForAll: Common Menstrual Myths Debunked By Dr Anjali Kumar
Can People Get Pregnant With Period Sex?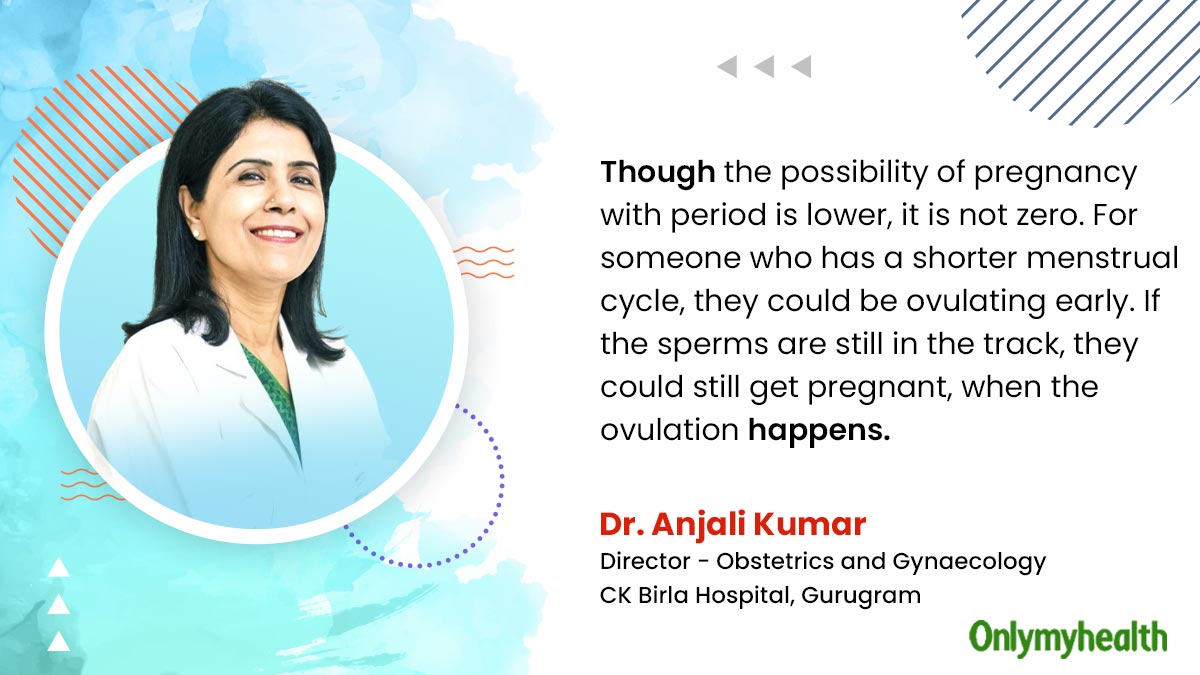 Speaking with us, Dr Kumar said, "Though the possibility of pregnancy with periods is lower, it is not zero. For someone who has a shorter menstrual cycle, they could be ovulating early. If the sperms are still in the track, she could get pregnant, when the ovulation happens."
That said, the doctor emphasises the importance of safe sex. She urges couples to use barrier contraception, such as a condom, sponge, diaphragm, and cervical cap, to reduce the risk of pregnancy and Sexually Transmitted Infections (STIs).
Also Read: #PeriodEducationForAll: Not All Women Have Periods; Dr Anjali Kumar Explains The Condition Called Amenorrhea
The Importance Of Safe Sex
Indulging in safe sex is one of the best ways to curb the spread of STIs. According to the World Health Organization (WHO), more than 10 lakh STIs are acquired every day worldwide, the majority of which are asymptomatic. Every year, an estimated 37.4 crore new infections are recorded, with 1 out of of 4 curable STIs, such as chlamydia, gonorrhoea, syphilis and trichomoniasis, reports the global health organisation.
The WHO states that the correct and consistent use of condoms can offer one of the most effective methods of protection against STIs, including the Human Immunodeficiency Virus (HIV).
Not only does protective safe sex lower the chances of unplanned pregnancy, but it also reduces one's risk of infections and related complications.