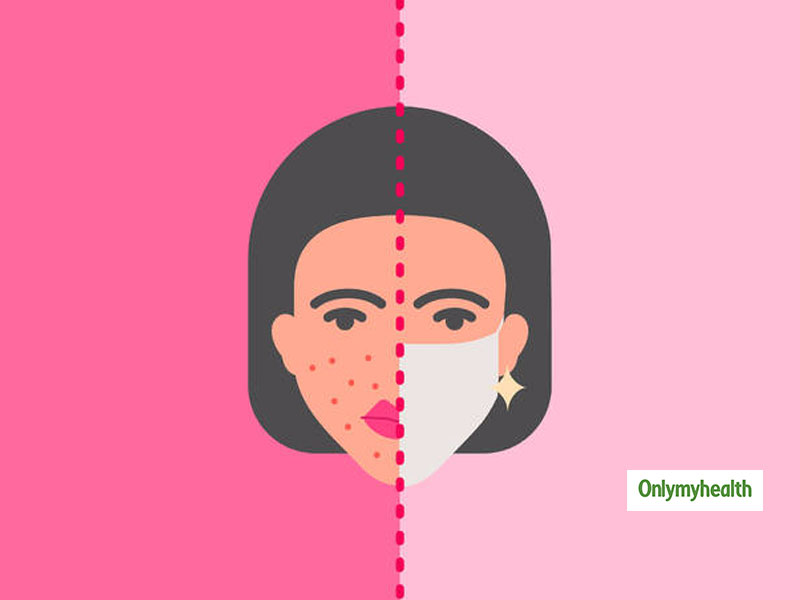 Wearing a mask is now a norm, but what about the skin problems making your life difficult? Read tips on preventing maskne
It is essential to wear a mask for obvious reasons as now wearing a mask is the 'new normal'. But what about the various skin woes that we have now started experiencing especially because of wearing a mask in this season? A newly termed coined in this pandemic era is maskne, which means acne and breakouts in the areas of the skin covered with the face mask. So, if you are a new sufferer of flareups or irritation on the skin it may be because of the mask you are wearing. But, this does not mean that one must not wear a mask. Wearing a mask is a must to be safe from coronavirus, and hence now available are various kinds of masks to select from. But what to do about the maskne, making lives miserable for many? Here are some essential pointers about maskne that one must know for proper management and treatment for healthy skin.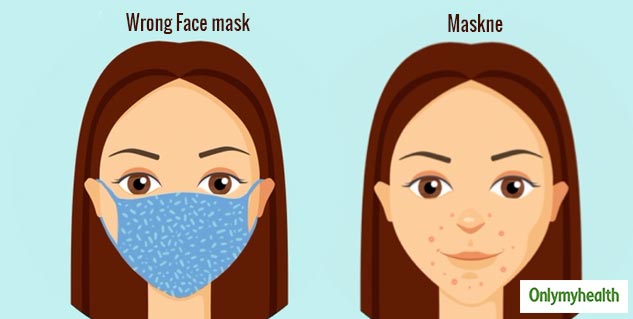 Also Read: Hairline Acne: What Is This and How This Can Be Treated
Why does it occur?
If you think this is the regular acne that you've always had, then you need to read this. This acne, which is known as the Acne Mechanica, happens due to trapped moisture, friction, occlusion and oil build-up on the skin. This happens in the skin area, which is covered with a mask.
Who gets it?
As per surveys, it is mostly healthcare workers who are supposed to wear tightly fitted masks without any break. However, with masks becoming a norm, the normal public is facing the brunt too. Other factors that include:
Those with a case history of rosacea tend to have flares and maskne more often than those with no skin-related issues
Those who are prone to cold sores or herpex may experience recurrence of the same
Stress also plays a significant role of maskne breakout
Those with nodulocystic acne may have more horrible flareups
More along the jawline shows the hormonal acne, which becomes worse due to moisture
What happens in Maskne?
We often get to hear that one must wash their cloth face masks regularly. But, it may also happen that improperly washed masks could be a reason of maskne. This primarily occurs due to the mixing of detergent residues and sweat together, leading to contact dermatitis. Also, the bands in the mask and its constant friction on the skin can lead to dark patches on the skin, also known as frictional melanosis. And, if you see minute boils, then you must be having demodex, which is a yeast growth, which mostly happens to men.
How do we treat it?
If maskne is making your worried sick then go in for a deep cleansing routine. Include salicylic acid and benzoyl peroxide 2.5% or 5 % formulation (never 10 %) to control the oil and the pus-filled in the acne.
AHA creams, Glycolic acid and kojic acid can be used to lighten the dark patches on the skin
Avoid using retinol on the irritated skin
Do not apply any cream before bedtime for the skin to rest and recover.
Take a few drops of anti-dandruff shampoo, which contains selenium sulphide, lather and apply on the irritated skin
But do not forget to get in touch with a dermatologist before trying anything on the skin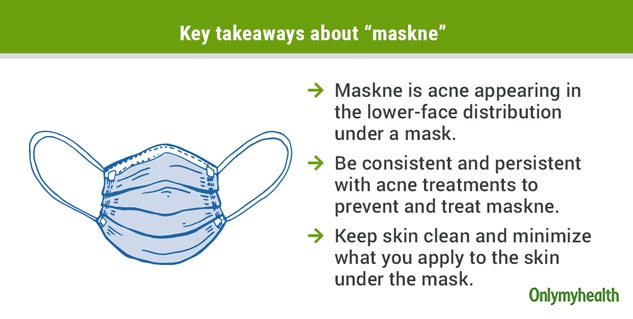 Also Read: Acne And Pimples: Facts To Know Before Undertaking Home Remedies
How do we prevent it?
Read below to know some tips to prevent maskne:
Wear a clean mask, and 100 per cent masks are preferred.
Wash with a mild soap or a detergent and make sure that you properly wash it
Wear masks which fit well and do not rub against the skin. Keep changing the position in 3 hours
Use gel moisturisers with pH 5.5 on the skin where the mask sits.
Avoid oil-based foundations and heavy creams especially if you have an oily skin
With inputs from Dr Sravya C Tipirneni, Consultant Dermatologist and Cosmetologist, Columbia Asia Hospital Whitefield
Read more articles on Skincare