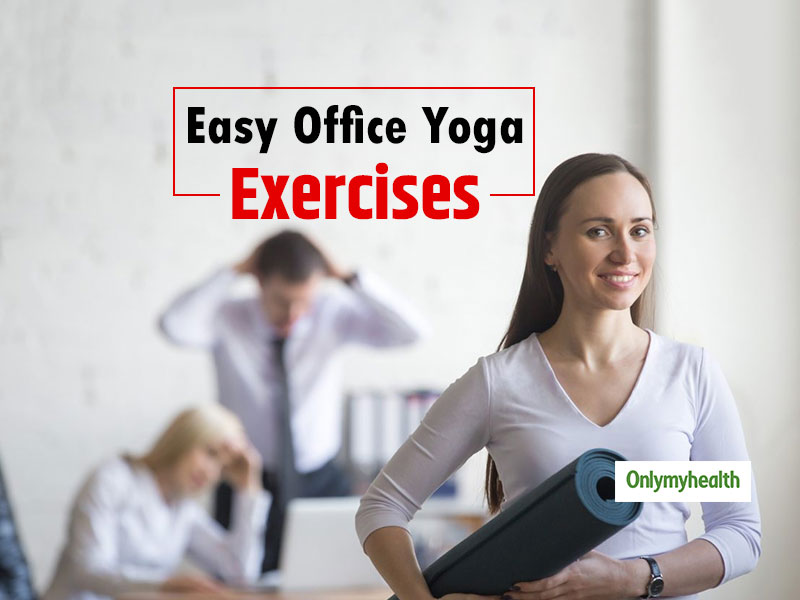 If you are determined to become healthy, nothing can stop you. Not even your hectic work schedule. If you wish to utilize some of your spare time in between the meetings and stuff, office yoga is for you. This won't be like the typical yoga where you need a yoga mat to exercise but you can do all of these sitting at your chair, easily and conveniently. These would help to keep your entire body healthy and active. Not just that, you'll feel energized throughout the day. No more feeling Monday blues, if you make this a habit. Just be positive, determined and consistent to pull this off.
Heart
Sit on a chair comfortably; keep the left hand on the chair's arm or on your lap. The back and neck should be straight and the face and eyes relaxed. Now form your right palm into a cup and slowly tap your heart on the left side of the chest. Practice this for at least 50 times. Doing this yoga is beneficial for heart health as it improvez blood circulation efficiency.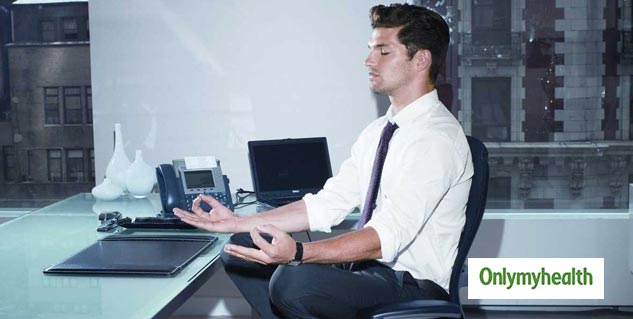 Lungs
As we inhale, we take in 500 cubic cm of air, but if you do a simple activity for your lungs, they will be able to take in as much as 3,000 cubic cm of air. Sit on a chair and expand your chest to your maximum by inhaling through the nostrils, holding the air in and finally releasing it. Repeat the activity 10 to 15 times. Make sure to keep your eyes closed throughout the exercise. If you have high blood pressure or have a heart problem, do not hold the air in, instead just breathe normally. The benefit of this exercise includes getting more air into the lungs which can increase the organs efficacy. This activity can prove well for asthmatics and tuberculosis patients.
Also Read: Try Kundalini Yoga To Bring Balance To Your Mind and Body
Lower back
Sit on a chair and keep your legs and feet close to each other. Now bend your lower back to the left side of your neck and the right hand to the left side. Hold the right arm of the chair with your left hand and stay in this position for a while. Repeat the exercise with the opposite hand. Keep your eyes open while doing this exercise and do it 10 times for each side. This activity will reduce fat build-up from your lower back. Make sure that there is a gap of three hours between lunch and the exercise.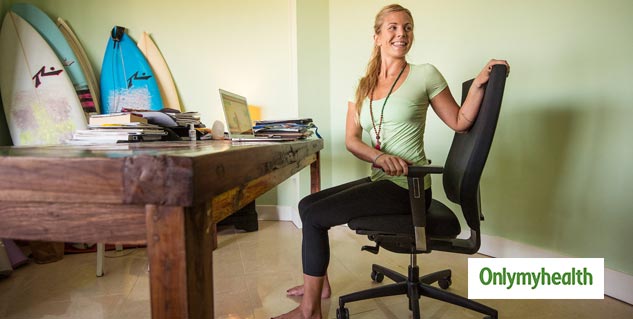 Also Read: 7 Yoga Mistakes That You Should Not Be Doing
Stomach
Sit on a chair and put both your hands on the arms of the chair and then fill your tummy with air while inhaling. Hold it in this position and then slowly exhale, contracting your tummy to its maximum. Repeat this exercise as much as you can. Doing this exercise will help you to reduce your tummy fat and balance out the body, mind as well your breathing pattern. Heart patients, those with high blood pressure and those suffering from ulcers must avoid doing this activity. Ensure a gap of three hours between exercise and lunch.
So, use the last few minutes of your time in the office to perform these activities and you are sure to be on a healthier routine.
Read more articles on Yoga