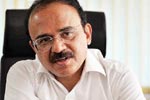 Maharashtra FDA Commissioner Mahesh Zagade to receive award from the World Health Organization (WHO) for his outstanding work towards banning the use and manufacture of guthka and pan masala in the state.
While adding another feather to the cap, Maharashtra Food and Drugs Administration commissioner Mahesh Zagade has been chosen by the World Health Organization (WHO) in the South-East Asia region for `World Tobacco Day-2014' for his exemplary work towards banning gutkha and pan masala in the state.

Zagade will be one of the six people to receive the award for the contributions he has made towards controlling use of tobacco and its addiction.

It was only two years ago, on July 18, 2012 a notification was issued by the Maharashtra government which put a ban on the sale and consumption of gutkha and pan masala in the state. With this, Maharashtra became the very first state in the country to make an effort towards the cause. This miffed many pan masala manufacturers in the state and led to as many as 20 petitions landing in the court.

The FDA made it sure the pan masala manufacturers do not manage to receive a stay on the ban. It was the FDA who initiated the proposal and to make things difficult further for the manufacturers, stringent provisions of the Food Safety and Standards Act, 2006, and Prevention of Food Adulteration Act were appealed for.

The pride of the nation, Zagade said "we tested 115 samples of gutka and pan masala of which 99 showed excess magnesium carbonate. We made this as our tool to fight against the manufacturers".

As per the regulations, the production, storage, distribution, and sale of guthka which contains nicotine, tobacco, and magnesium carbonate is banned in Maharashtra. The same rules are applied to pan masala.

The FDA has been stringent towards banning the use and manufacturing of tobacco in the state and starting from July 2012 till today, it has seized illegal goods worth Rs. 33 crore.

The FDA has said that the manufacturing of smokeless tobacco has been brought under control and now, it is the products which are being brought into the state illegally that need to be focused upon.

Apart from his extra-ordinary work towards a tobacco-free state, Zagade also launched a crusade to ensure safety during the sale of drugs at a chemist shop. He insisted that every chemist shop must have a qualified pharmacist.

To spread the awareness, a couple of months back Zagade held an interactive session, which was organized by Maharashtra State unit of Association of Pharmaceutical Teachers of India, with students at Dr. Vasantrao Deshpande Hall. Here, Zagade laid stress on the rules and regulations which must be followed while running a medical shop. He also motivated the students to pursue to pursue pharmacy as a career option.
Image courtesy: dnaindia.com
News source: dnaindia.com
Read more on Health News.