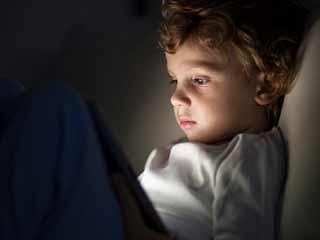 Findings of a study showed that decreasing the screen time and caffeine consumption can help children have better quality sleep and perform better in life.
A study found that limiting the screen time and caffeine consumption in children helps children get good quality sleep and perform better in life.

Orfeu Buxton, an associate professor at Pennsylvania State University said "good quality and sufficient sleep are vital for children. Just like a healthy diet and exercise, sleep is critical for children to stay healthy, grow, learn, do well in school, and function at their best".

The researchers studied children who were aged 6 to 17 years through internet-based interviews.

The researchers told that although the majority of parents knew the importance of sleep but, 90 percent of children did not receive the full amount of sleep time as recommended for their age group. Children who had electronic devices on in their bedroom after bedtime were more likely to suffer from sleep deficiency.

The authors said "a consistent bedtime routine improves sleep, whereas television use in the bedroom is generally associated with curtailed sleep".

The primary consequences of sleep deprivation among children included behavioral problems, impaired learning and school performance, sports injuries, problems with mood and emotional regulation and deteriorating health-related issues, including obesity.

The evidence from the research suggested that in adolescence, lack of sleep may be associated with high risk behaviours like substance abuse, suicidal beahviour and drowsy driving.

The results of the study were published in the journal Sleep Health.
Image courtesy: Getty Images
News source: hindustantimes.com
Read more Health News.